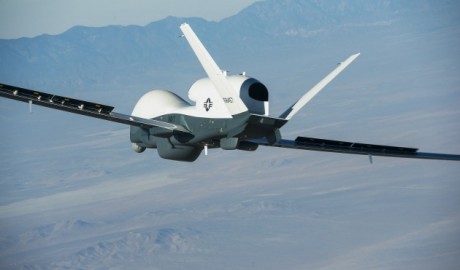 On May 22, 2013, the Triton high-altitude unmanned aircraft successfully completed its first flight from Northrop Grumman's Palmdale manufacturing plant, California.
The unmanned aerial vehicle took off at 07:10AM and remained aloft for about a 1.5 hour before being conducted back to the ground by a Navy and Northrop Grumman flight test team.
Image credit: U.S. Navy
The MQ-4C Triton is a drone designed to fly surveillance 24-hour missions at altitudes of more than 10 miles (16 km) covering  2,000 nautical miles (3,704 km) with an advanced suite of sensors that can detect and automatically classify different types of ships.
It has a wingspan of 130.9 feet (39.9 m), larger than a Boeing 737. It will complement the P-8A Poseidon (a military version of the 737) within the Navy's Maritime Patrol and Reconnaissance Force family of systems.
The MQ-4C is a much advanced version than the first generation Global Hawk Block 10: it is believed to be a sort of Block 20 and Block 30 Global Hawk hybrid, carrying Navy payload. With a 130.9-foot wingspan, the giant drone features an AN/ZPY-3 multi-function active-sensor (MFAS) radar system, that gives the Triton the ability to cover more than 2.7 million square miles in a single Intelligence Surveillance Reconnaissance (ISR) mission.
Related articles