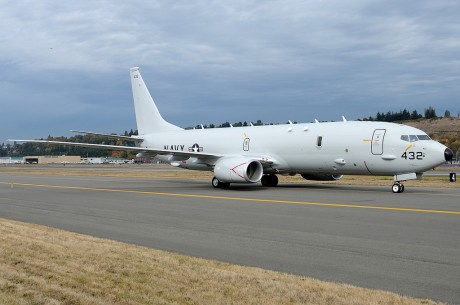 The Boeing P-8A Poseidon maritime patrol and anti-submarine warfare (ASW) aircraft is nearing fleet service with the U.S. Navy (USN).
USN VP-16 is approaching completion of a training syllabus at Naval Air Station Jacksonville, Florida and is expected to reach IOC (initial operational capability) in Feb. of 2013.
Five Poseidon aircraft, serials 168428 through 168432, are being used for pilot and mission operator indoctrination. The aircraft are augmented by an extensive suite of synthetic trainers, including Level D equivalent flight simulators and mock mission crew workstations.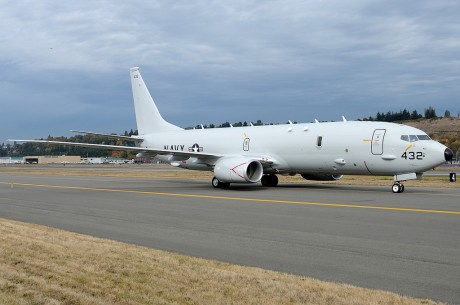 Image credit: Drewski2112/Flickr
The introduction of the P-8A marks an important milestone for the USN, which has operated various versions of the legacy P-3 Orion turboprop patrol plane for over five decades. The Poseidon is a derivative of the Boeing 737, incorporating a 737-800 series fuselage mated to 737-900 wings and featuring raked winglets to improve low-altitude fuel burn. The aircraft can carry the Mk-54 airborne ASW torpedo and the Harpoon anti-ship missile.
The P-8A offers greatly improved communications and connectivity in comparison with the P-3C. Additionally, the open-architecture mission systems allow for simple and relatively inexpensive software upgrades to quickly introduce growth capabilities. The USN plans to operate the Poseidon in conjunction with the MQ-4C Triton UAS (Unmanned Aerial System), itself based on the Northrop Grumman Global Hawk. Current budgets call the purchase of 117 P-8 model aircraft.
Test flights of the P-8A are still in progress at Naval Air Station Patuxent River, Maryland. Flight characteristic evaluation is being conducted by VX-20 while operational weapons and test evaluations are being carried out by VX-1.

Michael Glynn for TheAviationist.com
Related articles