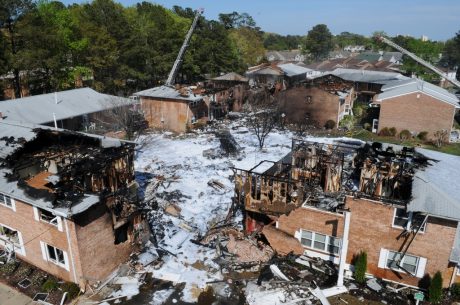 On Apr. 6, 2012, a U.S. Navy F/A-18D Hornet crashed into Mayfair Mews Apartments off of Fleming Drive, Virginia Beach, Virginia, USA..
Fortunately, no one was killed in the accident even if several people were treated for injuries, including both pilots, a student pilot and an instructor, which ejected safely at low altitude.
Photos of the crashed Hornet (Bu.No. 163452/AD-410), flying with the NAS Oceana-based VFA-106 "Gladiators" were published by U.S. and foreign media outlets but the images released by WTKR Television on Nov. 26 are the first ever recorded of the doomed plane slamming into a Virginia Beach apartment complex.
Actually, little of the plane can be seen: the doomed plane was flying so fast it can be (more or less) on two frames only. The first frame shows something grey on the upper left corner. The subsequent one shows what seems to be a wing tip launcher. Then, the camera shakes as a consequence of the impact and debris invade the parking lot.
According to the Navy, the mishap was caused by an extremely rare dual engine failure: with a flamed out engine the remaining F404-GE-402 experienced a failure and did not generate sufficient thrust to keep the aircraft in the air.
When the F-18 dropped to 50 feet the crew successfully ejected.
H/T to Moreno Aguiari for the heads-up
Image credit: U.S. Navy
Related articles