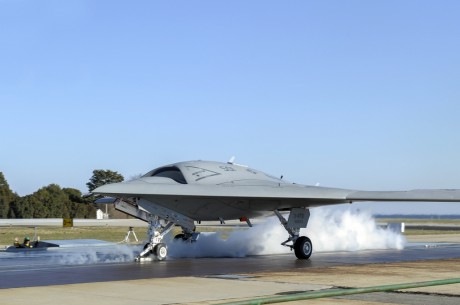 On Nov.29, the X-47B Unmanned Combat Air System (UCAS) demonstrator successfully completed its first land-based catapult launch from Naval Air Station Patuxent River.
Hence, as China greeted the first successful landing on a combat plane on its Liaoning aircraft carrier, the U.S. Navy has made another significant step toward the future integration of drones on the carrier deck.
A step that will make naval aviators as we know it no longer sitting in the cockpit of an embarked plane but piloting killer unmanned planes from a more comfortable chair inside a ground control station.
Ground-based cat launches and recoveries will continue in the future at Pax River before the X-47B embarks on USS Harry S. Truman (CVN 75) later this month for its initial sea trials.
First carrier-based launches and recoveries by an autonomous, unmanned aircraft are expected in 2013.
Image credit: U.S. Navy photo courtesy of Northrop Grumman by Alan Radecki
Related articles