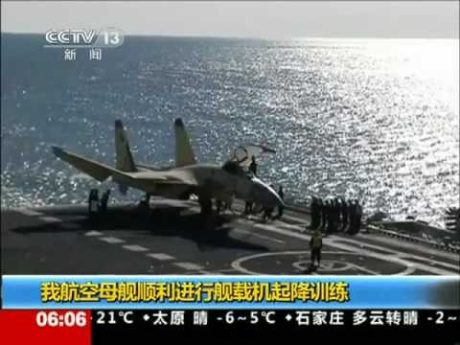 Although it's still decades away from achieving a combat capability comparable to that of the U.S. Navy, China's People Liberation Army Navy is trying to fill the gap quite quickly.
According to Alert5, the first arrested landing on Liaoning took place on Oct. 21 with a J-15 piloted by a China Flight Test Establishment pilot.
On Nov. 20, PLANAF (People Liberation Army Navy Air Force) performed the first successful arrested landing on the Liaoning, China's first Aircraft Carrier by a made-in-China Shenyang J-15, a multi-role Gen.4.5 plane (based on the Su-33 airframe with Chinese-developed technology).
On Nov. 23, flight ops on the aircraft carrier involved two PLANAF pilots.
Purchased in 1998, the Kutznesov Class 60,000 ton aircraft carrier, previously named "Varyag", will be used to test qualify Chinese pilots flying with the navalised J-15 as well as to test and validate procedures, equipments for another future operative aircraft carrier (expected no sooner than 2020).
Hence, not only China is currently the only country known to be developing two stealth fighters simultaneously (the J-20 and the J-31) but the successful landings on Liaoning have put its Navy on track for a future role as a maritime power capable to pose a threat to the U.S. naval forces in the Asia-Pacific theatre.
Related articles