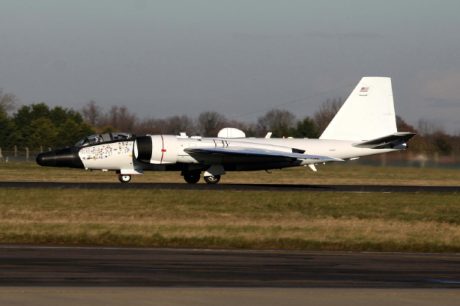 After completing a BACN deployment at Kandahar Airfield in Afghanistan, one of the NASA's last two flying WB-57Fs is on its way back to Ellington Field, Texas.
Wearing the typical white color scheme, used to keep a "low profile" and appear similar to general aviation aircraft during its rather clandestine mission, the highly modified Canberra registered N926NA arrived to RAF Mildenhall, UK, from Souda Bay, Crete, on Dec. 2 and left the British airport to Lajes field, Azores, on Dec. 3.
The following picture was taken at Mildenhall by The Aviationist's contributor Tony Lovelock.
The aircraft had deployed to Afghanistan via Lajes on Mar. 5 after performing test activities at Nellis AFB, where the other plane of the same type, NASA 928 has recently conducted some more experimental flights (see below).
According to the information released by NASA, the spooky N926NA (stripped off of all the NASA's markings) will be back in Houston for maintenance until Feb. 2013, and then leave again on Feb. 28, 2013, on another deployment outside the U.S. (most probably in Afghanistan) until Sept. 30, 2013.