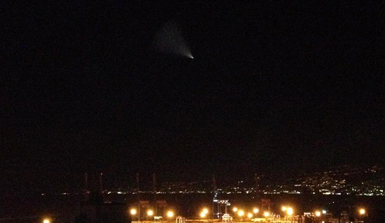 Update Jun. 10, 2012 22.20 GMT
A mysterious luminous object appeared over north Lebanon, Marjaayoun, the Bekaa and the Syrian-Turkish border, as well as over Iran on Jun. 7 evening.
Although according to some sources  the luminous object was the result of a large meteorite that exploded leaving a visible train of dust, the object, which gave off light and was followed by a seemingly smoke trail, has not been clearly identified and some astronomers believe that it was not a meteor.
The sort-of UFO was also filmed over Lökbatan, a settlement in Baku, Azerbaijan.
Dr. Yigal Pat-El, the chairman of the Israeli Astronomical Association and Givataim observatory in central Israel, who spoke to the Ynetnews, said:
"It looked like a small body that suddenly started to grow and make spiral-like movements," he said. "After a while, it turned into a cloud….it looked like an object flying high above ground and then disintegrating."
Image credit: LBC International
Others said that the shape of the object/light could be similar to that generated by an Intercontinental Ballistic Missile reentry vehicle. In the following days, it was revealed that on Jun. 7, Russia has test-fired a new Topol-M series missile code-named RS-12. However, the test reportedly took place at 09.39 Moscow Time whereas the object was spotted later in the evening.
Eventually, it was confirmed that the mysterious light was caused by a Russian missile test, althought the actual type of weapon was not disclosed.
Image credit: U.S. Air Force
In 2009 similar reports were received in Norway, following a failed Russian SLBM RSM-56 Bulava missile test that generated a weird visual effect consisting of a blue beam of light with a greyish spiral emanating from one end of it.
Related Articles