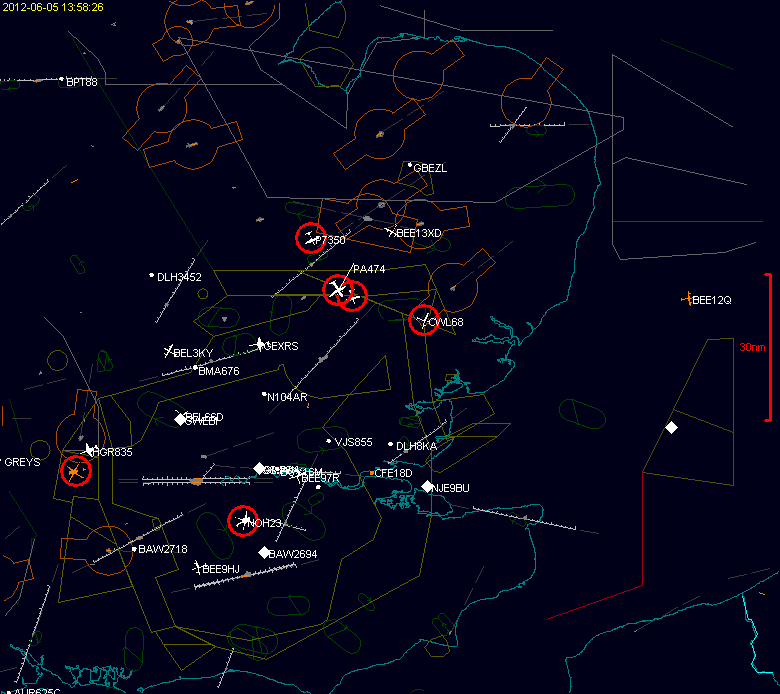 Click on the image to start animation
The following animation showing the Queen's Diamond Jubilee flypast over Buckingham palace was recorded on PlanePlotter by John Locker.
In this animation we can see the C-47 Dakota flight  [ZA947] and Lancaster flight [PA474] join up then fly down the Mall before breaking off to the north.
Other aircraft can be clearly seen in the animation: [CWL68] were the B200s with serial ZK453 and ZK454 (with SCE84 being probably a spare Beech); [P7350] was the Spitfire; [NOH23] was a chopper out of RAF Northolt, possibly on security duty.
Noteworthy, a Spitfire and a Hurricane pop up in the early frames but once joined up, only the lead aircraft in each section continued with Mode S.
Image courtesy John Locker
PlanePlotter (PP) is a software that receives and decodes live digital position reports from aircraft and plots them on a chart.
Using PlanePlotter, you can see a radar-like display of all those aircraft around you that are transmitting the appropriate digital messages including ACARS, ADS-B and HFDL. Needless to say, you need the appropriate hardware (receiver, antenna, etc.) to get the digital signals.
Unlike other very well known Internet services, as Flightradar24.com or Planefinder.net, PP has some more features, including
Multilateration to locate and track those aircraft which do not send  position reports
Beamfinder, Beamfinder Plus and Beamfinder Plus S: PlanePlotter can use the pings from known radar stations to calibrate the rotating beam and to use that information to locate aircraft not transmitting position
Related Articles