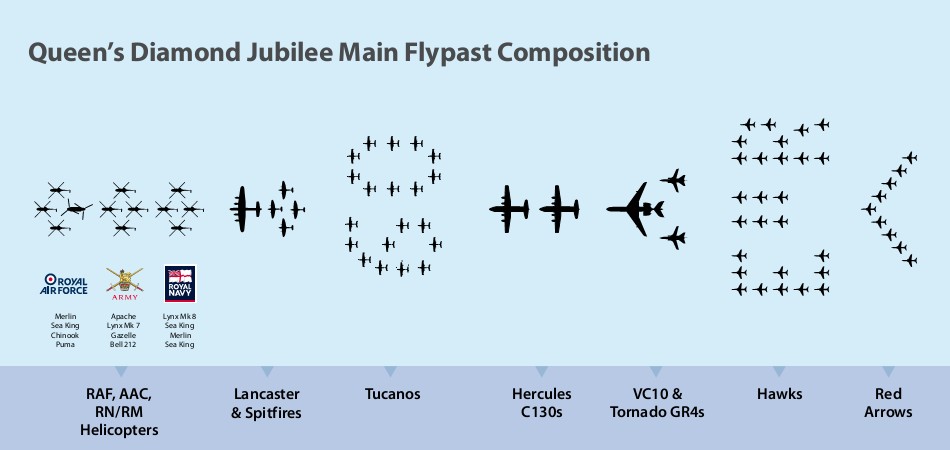 On Saturday May 19, Queen Elizabeth II celebrates her first 60 years as monarch. Here are the graphics that explain how the Queen's Diamond Jubilee, a flypast of over 80 aircraft (more than those taking part to the previous editions) belonging to the British air arms, will take place.
Source: Royal Air Force
Two Temporary Airspace Restrictions or RA(T)s will be in force from 09:30 to 11:30 hours (UTC) and from 09:50 to 11:50 hours (UTC) on 19 May and affect a broad corridor of airspace from the South Coast to west London, corresponding to the route the formation will fly to reach Windsor, and then to the north and northwest of Windsor to facilitate the dispersal of the aircraft.
You will notice that the Typhoon, UK's most advanced plane (F-35B aside) is not featured in the main flypast: don't worry, it's not being grounded like the RAF E-3s, nor being kept on alert for the Olympic Games.
The flypast will comprise two separate aircraft formations – nine Typhoon fighter jets open the event, followed later by the large mixed formation (including two formations of Tucano and Hawk aircraft, the Red Arrows, and aircraft from the Battle of Britain Memorial Flight.
Image credit: UK Civil Aviation Authority
Related articles