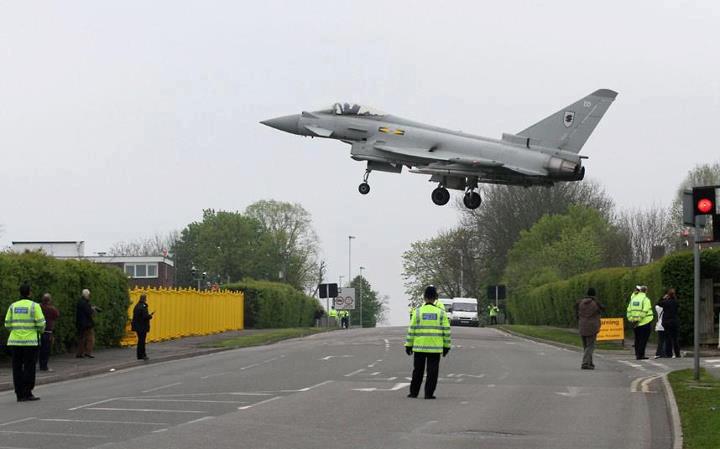 If you plan to visit London during the Olympic Games and you are an aviation geek, I suggest you to pay a visit to one of the best (temporary) spotting places ever.
Judging by the image below, published on May 2 by the Daily Telegraph and taken during Exercise Olympic Guardian, the viewing area is located somewhere around RAF Northolt airport, in west London.
From there you'll almost be able to touch the armed Typhoons while landing at their deployment base at the end of their missions to enforce the No-Fly Zone above and around the capital of UK.
The role of the British Eurofighters is, along with several other assets and a few SAM (Surface to Air Missile) batteries settled on top of some residential buildings, to defend the Olympics from 9/11-type of attack.
Last month two Typhoons launched to respond to an emergency signal from a helicopter caused a sonic boom that caused panic across England.
Leave a comment or send me an email if you are able to locate or give direction to the spotting point.


Picture: Julian Simmonds/Daily Telegraph
However, since the RAF does not plan to perform CAPs from RAF Northolt, the possibility to see a scene like the one depicted above are scarce. Unless a practice QRA or an air patrol is launched from there, the base could be much busier during the preliminary exercise than in the Olympics period.
Related articles