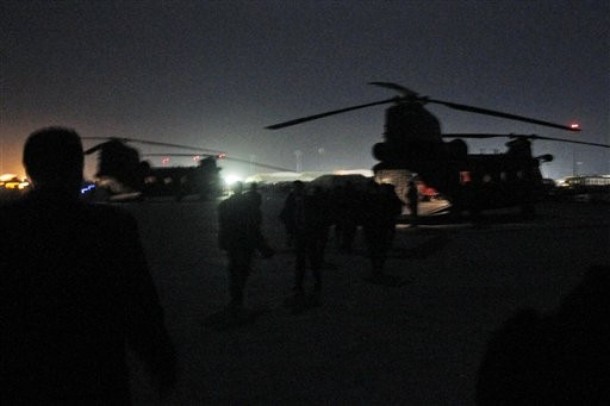 Hiding a large aircraft is not easy. If such plane is the world's most famous Boeing 747, the undertaking will be even more challenging.
As you already know by now, President Obama arrived in Afghanistan on May 1 at 10.30PM (Kabul time), to sign a strategic-partnership agreement with President Hamid Karzai. His "surprise" visit took place on the first anniversary of the raid that killed Osama Bin Laden in Pakistan.
Image credit: AP Photo/Charles Dharapak
The VC-25 (military designation for the presidential Jumbo) landed in the darkness of the night at Bagram airfield, one of the largest U.S. military bases in Afghanistan.
Even if we don't have any specific detail about the Air Force One flight, we can assume the aircraft used the same precautions used on visits to other dangerous spots around the world (as reported by accompanying journalists and military analysts):
steep descent and "aggressive turns" during the last part of the flight to prevent a predictable flight path that could ease targeting attempts
fake radio callsign since take off, in order to mask the flight to all the Air Traffic Control (ATC) agencies encountered enroute
use of two almost identical VC-25s
accompanying /preceding cargo planes to sequence arrivals in such a way to mask the AF1 between airlifters
fighter escort (when needed)
strict security measures for embedded media
All of the above, while at Washington DC everyone is pretending the President is in the White House.
A screenshot of the bogus White House Schedule for May 1, published on the WH's website.
However, all such "countermeasures" are not always enough to keep the travel secret.
Bogus callsigns and transponder codes, used during Bush's trip to Baghdad in 2003 (as explained by Col. Mark Tillman, former AF1 pilot), can be noticed and arise suspicion among the community of aircraft enthusiasts that track all military and civilian air traffic with commercial off-the-shelf and/or freely available tools (among them LiveATC.net, the same Internet radio feed that gave the opportunity to hear the comms of the Shuttle Carrier Aircraft over NYC and Washington DC).
Fortunately, deceiving terrorists or insurgents is usually easier than fool an aviation geek into believing that the one he has just heard on a radio is not the Air Force One crossing the ocean enroute to a secret place, but a routine ferry flight.