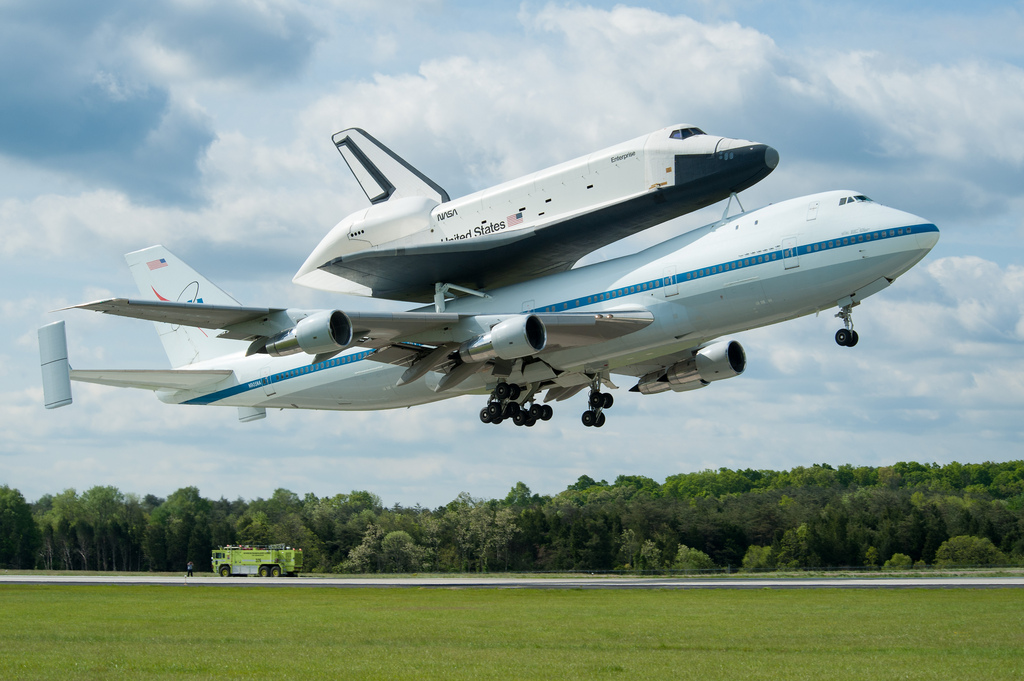 On Apr. 27, Space Shuttle Enteprise, atop a NASA  B747 SCA (Shuttle Carrier Aircraft) N905NA, from Washington Dulles airport, using radio callsign "Bovic 15 Heavy", flew over New York City as done on Apr. 17 when Discovery performed a fly over on Washington DC.
Photo Credit: (NASA/Smithsonian Institution/Mark Avino)
Since the modified Boeing 747 is not equipped with ADS-B, the flight could not be tracked on either Flight Radar 24, Flight Aware or Plane Finder. However, radio comms were broadcast on the Internet thanks to Live ATC, whose feed let the world hear the "mothership" as it overflew the Hudson River at altitudes between 1,500 and 3,000 ft, chased by a NASA T-38 (radio callsign "Bovic 18″), before performing a flyover LGA airport and landing at JFK.
As the SCA flew over NYC, other traffic was slightly delayed as shown in this Plane Finder screen capture:
Enterprise was the first Shuttle orbiter ever built for NASA and it was the only one that has never been in space: it was used to perform test flights in the atmosphere and was incapable of spaceflight.
Originally housed at the Smithsonian's Steven F. Udvar-Hazy Center, Enterprise will be demated from the SCA and placed on a barge that will eventually be moved by tugboat up the Hudson River to the Intrepid Sea, Air & Space Museum in June.
Here are some of the most interesting pictures posted so far on Flickr, Twitpic, Twitter etc.
Image credit: @chenrisius
Photo Credit: NASA/Bill Ingalls
Related articles