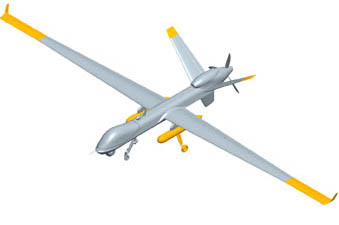 General Atomics Aeronautical Systems Inc. (GA-ASI) has designed field retrofitable capabilities–lengthened wings, wing-borne fuel pods, and new heavy-weight landing gear, capable to extend Predator B/MQ-9 Reaper's already impressive endurance.
Following a recent Endurance Enhancement Study, GA-ASI proposes two different field installable kits that extend endurance without costly depot aircraft modifications:
two underwing fuel pods to be added to the drone's existing 66 ft wings, increasing endurance from 27 hours to 37 hours.
new 88 ft wings to replace its current 66 ft wings and adding two fuel pods, increasing endurance from 27 hours to 42 hours for ISR-only.
Image credit: GA-ASI
Another modification announced earlier this year and available as field retrofit, is the new trailing arm design for the existing main landing gear on Predator B/MQ-9 Reaper that increases the aircraft's landing weight capacity by 30 percent and its gross takeoff weight by approximately 12 percent, from 10,500 lb to 11,700 lb. This would allow 'bots to return at their base with more fuel or heavier payloads. Similar performance metrics, including rejected takeoff loads, would be improved as well.
Related articles