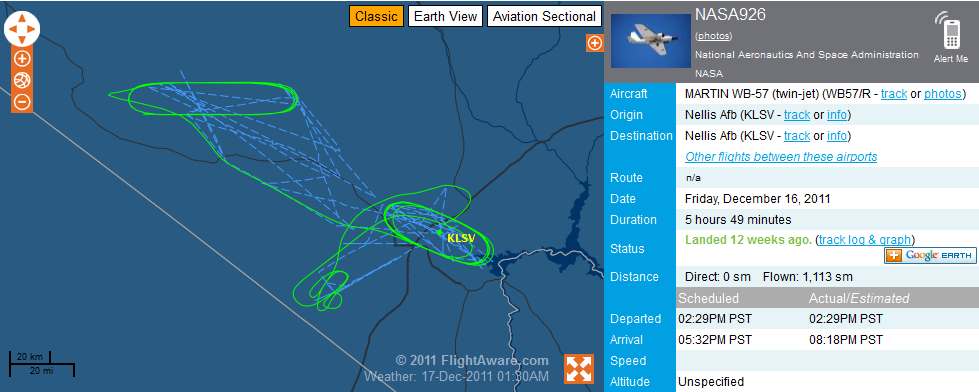 NASA still operates the last two flying WB-57Fs, NASA 926 and 928 one configured for air sampling and the other for photography, radar and thermal recce. Both have been flying research missions since the early '60s.
Although they are based at Ellington Field, Texas, they are often deployed to different bases, both at home and abroad; for this reason, scientific projects (focusing on hurricanes, radiation impact on clouds, atmospheric data gathering, tropical storm generation analysis, and so on) aside, NASA's Canberras are believed to be involved in some "special operations".
For instance, in 2007 there were speculations and theories about the type of mission flown by the WB-57 in war zones fueled by pictures of the aircraft operating from Kandahar airfield in Afghanistan without the standard NASA logo and markings.
Officially, the aircraft performed geophysical and remote sensing surveys as part of the U.S. aid to the Afghan reconstruction effort. The WB-57 collected  AVIRIS (Airborne Visible Infra Red Imaging Spectrometer) data that could be analyzed to provide information on mineral assemblages that could aid in resource and hazards assessments.
Surely, with up to 60,000-lb payload carried and a pallet system under the main fuselage area, this aircraft can fulfil a wide variety of special data gathering missions.
The N926NA depicted in the following pictures was operating from Nellis AFB, during the recent Red Flag, where The Aviationist's contributor Tony Lovelock, photographed it. The aircraft has operated in the Nellis Test Ranges from Nov. 15, 2011 to Feb. 1, 2012, when it returned to Ellington Field.
Although the reason of the deployment to Nellis is unknown, it is probably linked to the need to test some sensors within the local ranges, using base's facilities; sensor or collection equipment carried by the pallet system that consists of interchangeable (pressurized and unpressurized) pallet modules and capable to carry a total of 4,000 lbs. Lighter payloads can be carried in the nose cone, wing hatches, wing pods, tail cone and aft fuselage.
Even if the "mission page" on the NASA WB-57 webpage does not mention the missions flown from Nellis (nor the Afghanistan deployment) suggesting the one in Nevada was not a scientific campaign, the aircraft can be tracked on Flightaware: if you check the history of NASA 926, you can see all the flights the aircraft launched from Nellis and you'll discover that the Canberra has recently crossed the Pond flying to Lajes on Mar. 5, 2012.
Here's an example of what can be seen on Flightaware (route the N926NA flew from Nellis on Dec. 16):
Where it is going (carrying payload just tested at Nellis) and what kind of mission it will launch once it arrives at destination is a mystery. For the moment.
NASA 926 at Nellis on Jan. 25, 2012 (Photo by T. Lovelock)
N926NA (with NASA logo on tail) at RAF Mildenhall in 2008 (Photo by T. Lovelock)
Related articles