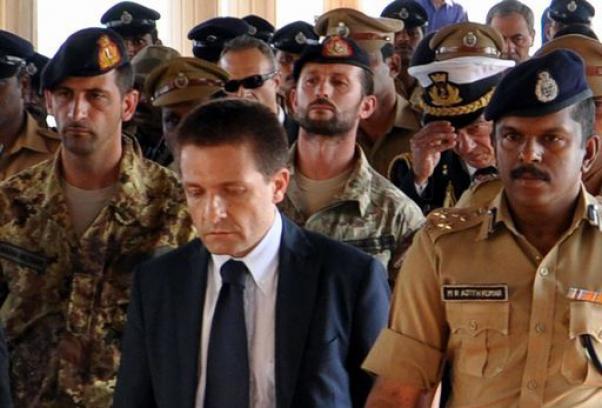 Any Indian juridicial action "not fully in line with international law risks creating a dangerous precedent concerning international peace and anti-piracy missions; missions to which Indian military take part and whose effectiveness and operational capability would be put at risk ": this is the content of the warning statement relayed by the Italian Prime Minister Mario Monti to his Indian counterpart Manmohan Singh following the decision of a court in the southern state of Kerala who jailed for two more weeks, while investigation is underway, the two Italian Navy marines, accused to have killed two Indian fishermen in a shooting off India's coast on Feb. 15.
The two Italian soldiers were on an anti-piracy mission on board the merchant ship Enrica Lexie. The presence of military personnel for VPD (Vessel Protection Detachment) is ruled by an Italian law compliant with the UN anti-piracy resolution and there are about 100 military currently aboard cargo ships in areas under threat of pirates.
Although the episode is still under investigation, the position of Rome is that the shooting happened in international waters and the case should be judged in Italy. Furthermore, Italy says that military should be gived absolute judicial immunity to the foreign state's jurisdiction (as happens in Afghanistan, for instance). On the other side, the Indian authorities say that the victims are Indian hence the case should be handled by New Delhi that doesn't grant the validity of the VPD (that is valid between NATO and EU members).
The Italian Foreign Affairs Minister has visited India last week while a diplomatic delegation is still on-site to try to find a solution to the stand-off.
This episode has some similarities with the incident of the USMC EA-6B (callsign "Easy 01") that in 1998, during a low level mission from Aviano airbase hit a cableway at 360ft and caused the death of 20 people.
The crew was not judged in Italy, because an Italian court recognized that NATO treaties gave jurisdiction to U.S. military courts that, in spite of some violations to the regulations for military VFR flights in the area, found the pilot and the navigator not guilty of involuntary manslaughter and negligent homicide (later they were found guilty for having destroyed a videotape recorded during the doomed flight).
Related articles