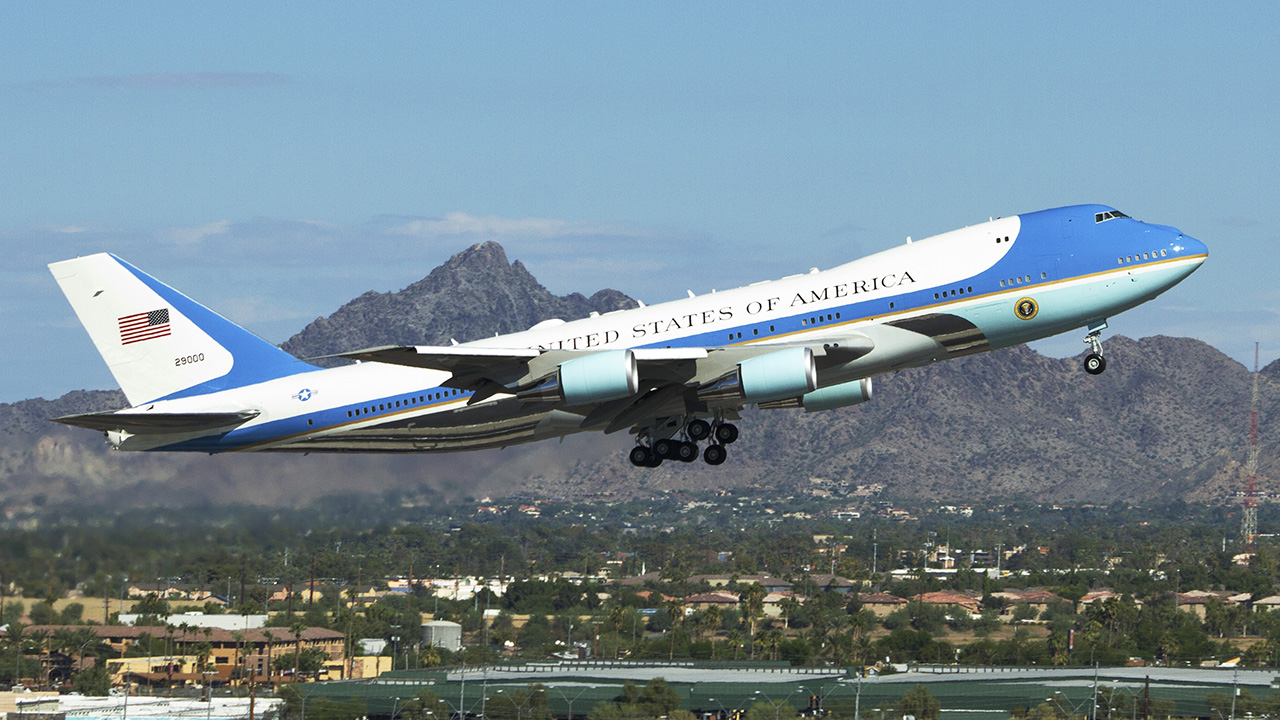 Let's Have A Look At The Presidential Plane's Anti-Missile Countermeasures.
"Air Force One" is the radio callsign for any Air Force aircraft with POTUS (President of the US) aboard. During the years the term has been used to refer to the two VC-25As, heavily-modified Boeing 747-200s (serial numbers 82-8000 and 92-9000) that have carried the president all around the world since 1990.
Recently, the Presidential VC-25 paid a visit to Phoenix Sky Harbor airport. Our reader Thomas Backus snapped a few shots of the aircraft on October 20, 2018, photos that can be useful to have a look at the Air Force One's self-protection systems.
As already explained here at The Aviationist in the past, along with the internal design, meeting rooms and wide array of communication systems, what makes the Air Force One different is the self-protection suite. The VC-25 aircraft is known to be fitted with active electronic counter measures, that are able to jam enemy radar frequencies as well as IRCM (Infrared Counter Measure) systems needed to divert heat seeking Infra Red missiles by disturbing their guidance systems.
The one in use on the AF1 is the AN/ALQ-204 Matador produced by the BAe Systems. Such systems protect the plane from both IR air-to-air and ground-to-air (MANPADS – Man Portable Air Defense Systems) missiles.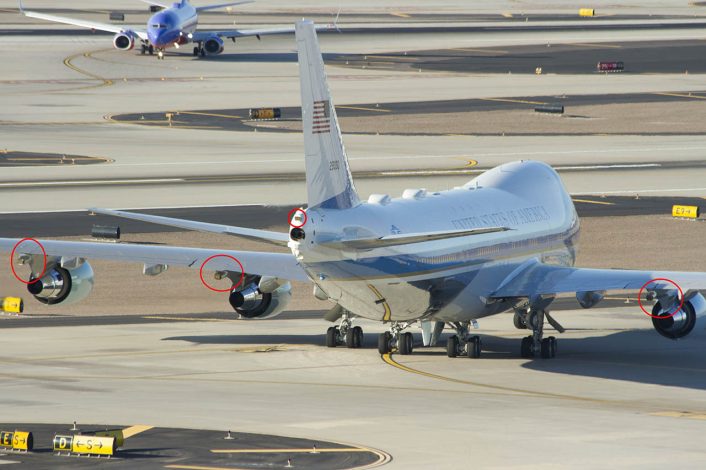 The plane is also equipped with chaff and flares dispensers: the first type is used to divert radar-guided missiles, while the flares are high-temperature heat sources ejected from the aircraft's dispensers to mislead the missile's heat-seeking targeting system: since the burn temperature is hotter than that at the engine's exhaust the burning flares attract and deceive heat-seeking missiles fired at the aircraft.
A breakdown of other interesting self-protection systems was published years ago in a DefenseMediaNetwork article by late author Robert F. Dorr, titled "Air Force One Has New Defensive Systems, Antennas" published in 2012. Here's an interesting excerpt:
Thought to be new or recent additions to the VC-25A:
An AN/AAR-54(V) missile launch warning receiver located at the tail is intended to report and track missile threats by zeroing in on their ultraviolet exhaust signature. The receiver is also in use on special-operations warplanes like the MC-130H Combat Talon II.

The AN/AAQ-24 Nemesis Directional Infra-Red Counter Measures (DIRCM) system, which can be directed by the AAR-54, fires pulsating flashes of IR energy that confuse a missile's guidance system.

[…]
Both the AN/AAR-54 and the AN/AAQ-24 (or one of its variants) are usually part of the same DIRCM system, that have been around since the early 2000s – BTW, it's worth remembering that DIRCM is aan acronym used to generally describe any infrared countermeasure system that tracks and directs energy towards heat seeking missiles. In particular, both are used by the Northrop Grumman Guardian modular system, a commercial package adapted for the use on commercial aircraft.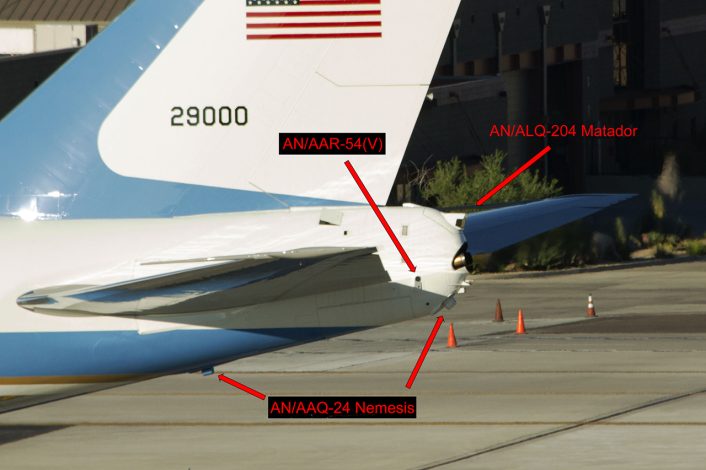 Some more details about these systems can be found at the vendor's company website. Dealing with the AAR-54(V), it is "a fourth-generation Missile Approach Warning System now in production and available for use on virtually every platform – helicopters, fast jets, and tactical and widebody aircraft. In all applications, this compact, lightweight system provides outstanding clutter rejection, long range and short shot missile detection, rapid automatic cuing to the countermeasures system, and increased situational awareness capabilities via heads-up display (HUD) or radar warning receiver (RWR) display."

The AAR-54, that can be either internal or external mounted in a pod or pylon, passively detects ultraviolet (UV) energy from the missile's exhaust plume, tracks multiple sources, rapidly and accurately classifies each source, and provides threat information to the countermeasures system for optimum response. This can be a chaff/flare Countermeasures Dispenser System (CMDS) or a more complex DIRCM self-protection suite.
For instance, the large aircraft infrared countermeasure (LAIRCM) system, is a DIRCM for fixed wing aircraft whose purpose is to protect the asset against surface-to-air infrared missile threats. As we first reported last year, U.S. Army AH-64E Apache attack choppers supporting the fight against Daesh in Syria and Iraq have been equipped with a variant of the U.S. Air Force LAIRCM, based on the Northrop Grumman's AN/AAQ-24 and dubbed Department of the Navy Large Aircraft Infrared Countermeasure (DON LAIRCM) system with the Advanced Threat Warning (ATW) upgrade. All these systems integrate missile warning sensors with laser emitters that are used to direct energy against heat seeking missiles. The laser is aimed at jamming the missile's guidance system, causing it to miss the target aircraft. For instance, the U.S. Army AH-64E DON LAIRCM is coupled to one or more Guardian Laser Transmitter Assembly (GLTA), smaller turret-mounted emitters than the original Nemesis. The GLTA, is also used by U.S. Air Force aircraft as part of their LAIRCM systems, hosted in a special pod underneath the fuselage.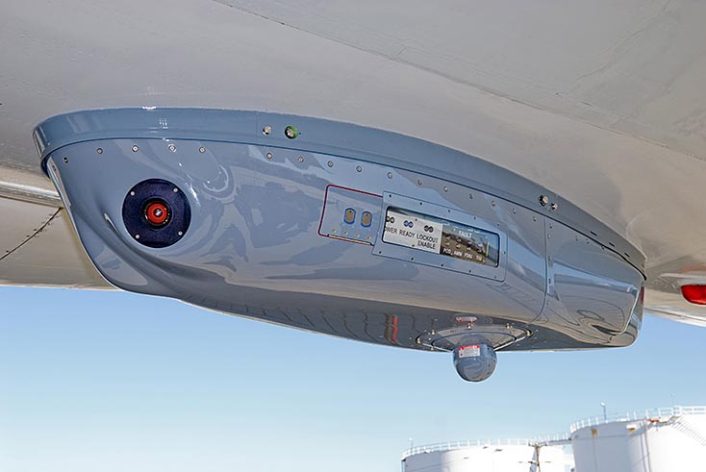 Considered that all the above details could be gathered from Open Sources and that most details about the AF1 and its self-protection system remain classified, there might be other systems (or sub-systems) or specific variants providing anti-missile protection for the world's most important aircraft that we are unaware of. At least for the moment.
Top image credit: "Taj" Backus