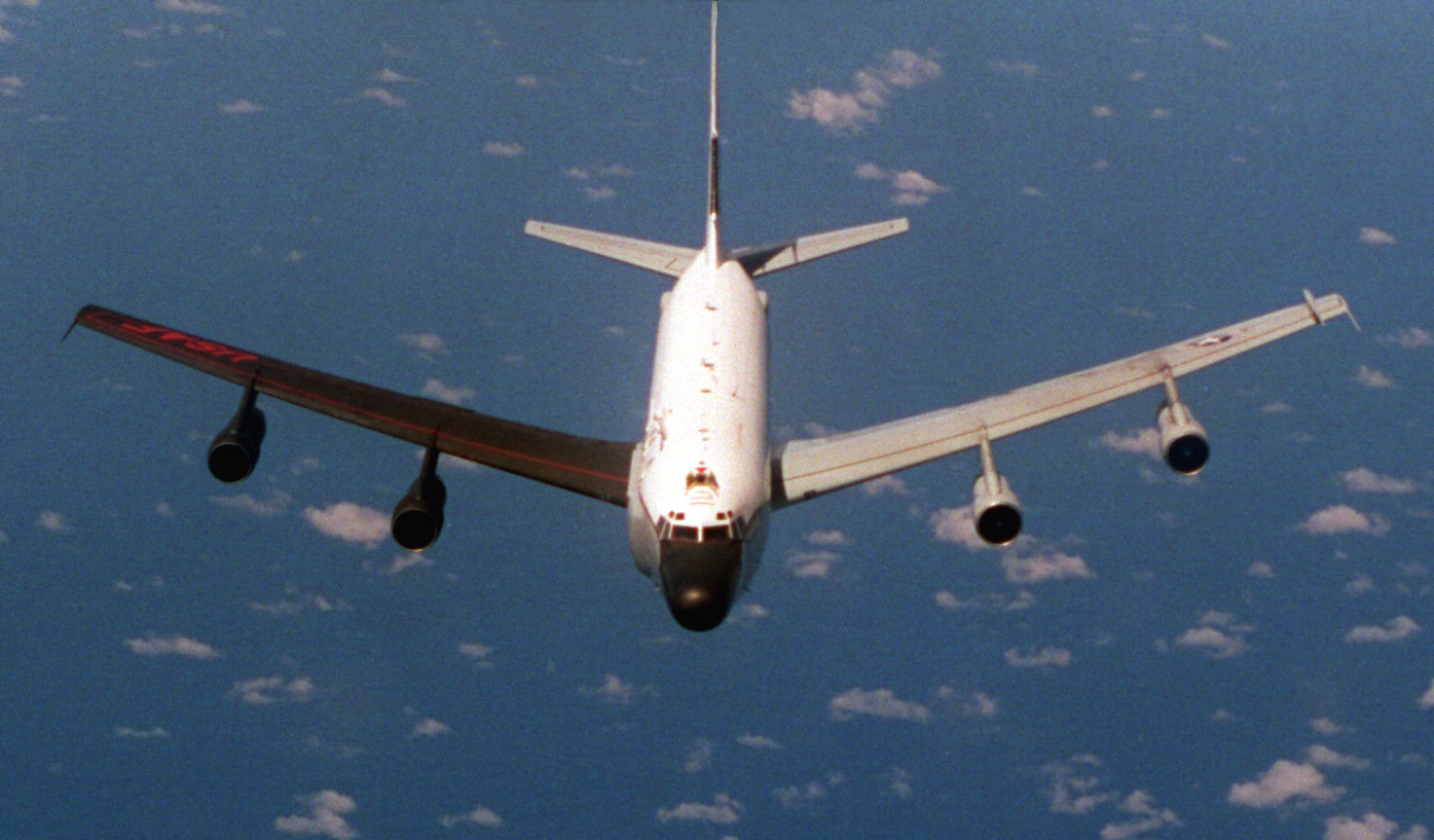 U.S. and South Korean intelligence gathering aircraft are monitoring Pyongyang's next move.
Kim Jong Un says North Korea may soon test a hydrogen bomb over the Pacific Ocean and, based on the signals broadcast by their Mode S/ADS-B transponders, it looks like several aircraft operating from their deployment bases in Japan and South Korea are interested in collecting signs of missile launch preparation.
In fact, despite their pretty clandestine roles, many U.S. spyplanes can be tracked online, using a standard browser to visit a public tracking website or COTS (Commercial Off The Shelf) equipment.
For instance, here are the most interesting aircraft operating around the Korean Peninsula in the last few days. Needless to say, these are the ones whose transponder exposed their presence; many others are probably operating in the very same area, but adhering to stricter OPSEC rules that require the aircrew to completely turn off their transponders.
As already reported in detail, the RC-135S Cobra Ball missile tracking aircraft is the asset whose activities may give a pretty clear idea of what is happening or about to happen in North Korea.
Cobra Ball back over Japan…

🇺🇸 USAF RC135S 61-2663 RONIN80 pic.twitter.com/v5uwgV8SeQ

— CivMilAir ✈ 🚁 (@CivMilAir) September 15, 2017
The RC-135S Cobra Ball aircraft from Offutt Air Force Base, Nebraska, are able to track ballistic missiles reentry vehicles and warheads during the final phase of flight. The aircraft is equipped with a powerful radar array on the starboard side of the fuselage, just aft of the cockpit. Several optical quality windows are mounted on the starboard side as well, allowing infrared and visible spectrum cameras to record the warheads during their final moments of flight. A distinctive feature of the Cobra Ball is the black low-glare paint used on the starboard wing, whose purpose was to improve image quality and prevent glare during photography when the RC-135S launched from Shemya AB, Alaska, to monitor the Soviet activities in the Sakhalin peninsula: although the aircraft still feature the black paint on the aircraft's right hand side, the current electro-optical sensors are able to remove glare from photographs. Moreover, the current Coobra Balls are equipped with optical and electronic sensors on both sides of the fuselage. RC-135S crews are augmented by several ground based, phased-array radar systems, such as the COBRA DANE radar at Eareckson Air Station in Shemya, used to provide radar coverage over the Northern Pacific.
Another aircraft that is often tracked in the region is the WC-135 Constant Phoenix, one of the two aircraft operated by the 45th Reconnaissance Squadron from Offutt Air Force Base, with mission crews staffed by Detachment 1 from the Air Force Technical Applications Center able to analyze the fallout residue in real-time, helping to confirm the presence of nuclear fallout and possibly determine the characteristics of the warhead involved.
Nuke Sniffer – Constant Phoenix position now showing off the coast of Japan @ FL330
🇺🇸 US Air Force
WC-135C 62-3582 SURLY55 🛰 pic.twitter.com/xYGSwufL2e

— Aircraft Spots (@aircraftspots) September 6, 2017
The Constant Phoenix, known as the "sniffer" or "weather bird" by its crew made of up to 33 personnel, flies in direct support of the U.S. Atomic Energy Detection System, a global network of nuclear detection sensors that monitor underground, underwater, space-based or atmospheric events. The aircraft was first deployed to Kadena in April this year. Since then it has been tracked mainly in the aftermath of each nuke detonation.
Constant Phoenix – Nuke sniffer tracking over Japan

🇺🇸 US Air Force
WC-135C 62-3582 RUNIN85 pic.twitter.com/r0z0J6wUYu

— CivMilAir ✈ 🚁 (@CivMilAir) September 11, 2017
Constant Phoenix – Nuke sniffer airborne from Kadena AB, Japan

🇺🇸 US Air Force
WC-135C 62-3582 https://t.co/kYI9uFAT1b

— CivMilAir ✈ 🚁 (@CivMilAir) September 20, 2017
The aircraft is equipped with external flow devices used to collect airborne particulate; for this reason, the Constant Phoenix "Nuclear Sniffer" is usually launched after the claimed nuke tests, to detect fission fragments by their characteristic decay radiation and verify the nuclear test and get some important details. For example, by looking for isotopes that could only be produced in a high intensity high energy neutron flux, analysts can determine if bomb was indeed a hydrogen bomb.
These Aircraft Sampled Air For Radioactive Particles To Determine If North Korea Actually Detonated A Hydrogen Bomb
Another interesting aircraft that was recently tracked online is the South Korea's Boeing 737 Peace Eagle airborne early warning & control (AEW&C) aircraft. This aircraft (that in the Turkish Air Force service can be spotted every now and then on Flightradar24.com circling at high altitude over southern Turkey most probably monitoring the movements of the Russian and Syrian planes)
No position showing
🇰🇷 Republic of Korea Air Force
E7 AEW&C Peace Eye
64-700 K070 pic.twitter.com/CJvXSbRPLC

— CivMilAir ✈ 🚁 (@CivMilAir) September 20, 2017
Although the aircraft could be involved in routine AEW tasks monitoring the activities of the North Korean assets close to the DMZ, the Peace Eye embeds a variety of ESM (Electronic Support Measure) sensors that can be used to detect, intercept, identify, locate, record, and/or analyze sources of radiated electromagnetic energy augmenting the intelligence gathered by U-2S, RC-135V, RQ-4 Global Hawk, U.S. Navy EP-3E and P-8 and other assets that undertake ELINT (Electronic Intelligence) tasks on North Korea.
49,000ft over Japan
UAVGH000 – Global Hawk #UAV #drone pic.twitter.com/GvJhr8gJCa

— CivMilAir ✈ 🚁 (@CivMilAir) September 23, 2017
Anyway, OSINT as well as the analysis of the aircraft movements by means of ADS-B may give a pretty good idea of what happens around North Korea as Pyongyang prepares for a new test. One may wonder why such missions can be tracked online. This has been the subject of many articles. Considered that the risk of breaking OPSEC with an inaccurate use of ADS-B transponders is very well-known, it seems quite reasonable to believe that RC-135s and other strategic ISR platforms, including the Global Hawks, operate over highly sensitive regions, such as Ukraine, Libya, or Korea, with the ADS-B and Mode-S turned on, so that even everyone can monitor them. It's a way to show the flag and prove that somebody is watching. Still, we can't completely rule out the possibility it's just a mistake.
Anyway, regardless to whether it is done on purpose or not, point your browser to ADSBexchange or follow some of the Twitter accounts who constantly track such aircraft, such as our friends @CivMilAir (who helped with the preparation of this article) and @aircraftspots, to get an idea of what is happening in the airspace around the Korean Peninsula.
 Image credit: U.S. Air Force