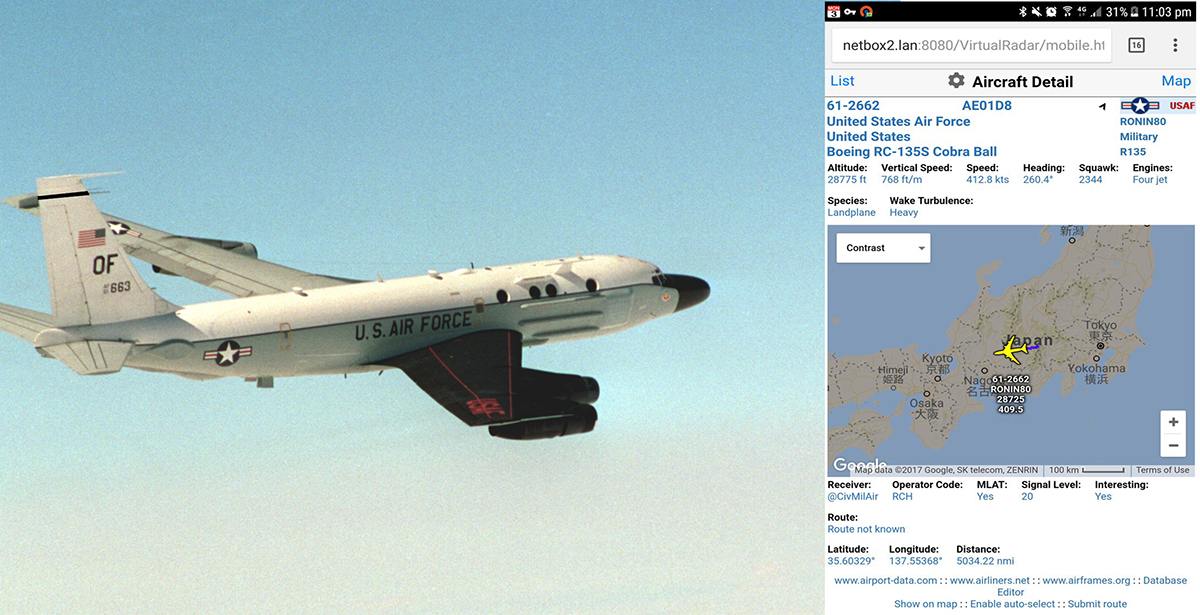 You can monitor online the U.S. RC-135S Cobra Ball aircraft used to track ballistic missiles reentry vehicles and warheads during the final phase of flight.
Early in the morning on Jul. 4, North Korea successfully tested an intercontinental ballistic missile (ICBM) for the first time.
The ICBM, referred to as Hwasong-14, reached a height of 2,802 kilometers, according to the state-run Korea Central Television (KCTV). The missile was launched from Panghyon, in North Pyongan province, and flew into waters east of the Korean Peninsula after traveling for about 930 kilometers.
The latest missile launch, as well as the previous ones, was almost certainly monitored by the U.S. Forces deployed to the region, using a variety of aerial, ground-based, sea-going assets.
The U.S. Air Force relies on its small contingent of RC-135S Cobra Ball missile tracking aircraft. Based at Offutt Air Force Base, outside Omaha, Nebraska, and  flown by the 45th Reconnaissance Squadron, these intelligence gathering aircraft are often deployed where needed to track ballistic missiles reentry vehicles and warheads during the final phase of flight. The aircraft is equipped with a powerful radar array on the starboard side of the fuselage, just aft of the cockpit. Several optical quality windows are mounted on the starboard side as well, allowing infrared and visible spectrum cameras to record the warheads during their final moments of flight. A distinctive feature of the Cobra Ball is the black low-glare paint used on the starboard wing, to improve image quality and prevent glare during photography.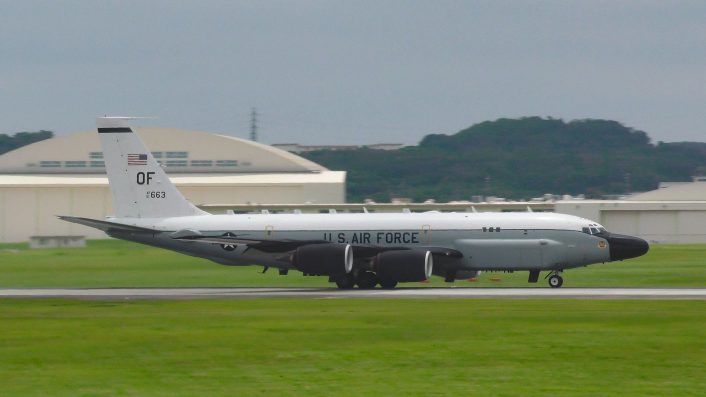 Unsurprisingly, two Cobra Ball aircraft  (61-2662 and 61-2663) are currently deployed to Yokota Air Base, Japan, from where it is launched when there are signs of an imminent North Korean test. What is far more surprising is the fact that, in spite of their important role, RC-135S aircraft are among the military planes that can be tracked online by exploiting the signals broadcast by their Mode S/ADS-B transponders.
By observing the activities of the RC-135S in Japan you may have a pretty clear idea of what is happening or about to happen in North Korea. For instance, last night, the fact that the Cobra Ball was airborne from Yokota might suggest that the U.S. intelligence had detected activities at the launch site and was preparing to monitor the test. This is the reason why I tweeted the following (later confirmed by the news of the ICBM test):
Won't be surprised if North Korea conducts a new test in the next hours. https://t.co/kKiuSIM5Vo

— David Cenciotti (@cencio4) July 3, 2017
And that was not the first time. Just a coincidence? Most probably not, considered that the Cobra Ball does not fly that much and almost all sorties tracked online in Japan coincided with North Korea's tests.
Here are some examples:
On Apr. 15, North Korea test-fired an unidentified land-based missile from the naval base in Sinpo. An RC-135S was flying over Japan:
Cobra Ball popped up again briefly.
Japan area…
?? US Air Force
RC-135S 61-2662 pic.twitter.com/Gwlxm4OTDn

— CivMilAir ✈ ? (@CivMilAir) April 16, 2017
On May 13, North Korea test-fired an intermediate range ballistic missile, from a test site on the country's West Coast. That launch reached a then-record altitude of around 2,100 kilometers (1,300 miles) and a Cobra Ball was airborne to watch and collect data:
Mode-S detected. No position showing.
Cobra Ball – Ballistic Missile detection a/c
?? US Air Force
RC135S 61-2662 pic.twitter.com/Zt2ORwCDXv

— CivMilAir ✈ ? (@CivMilAir) May 13, 2017
On Jun. 20, a Cobra Ball and WC-135 Constant Phoenix "nuclear sniffer" flew over Japan. It was later unveiled that the spy satellites had detected new activity at the North Korean nuclear test site.
This might explain (confirm the reason behind) those Cobra Ball and Constant Phoenix aircraft tracked earlier @CivMilAir @aircraftspots https://t.co/jgzibn0Kf2

— David Cenciotti (@cencio4) June 20, 2017
So, if you want to know when Kim Jong Un is preparing for a new test, you may try to look for a Cobra Ball or Constant Phoenix airborne over Japan on ADSBexchange or simply follow some of the Twitter accounts who constantly track such aircraft, such as our friend @CivMilAir who provided us with most of the updates on the RC-135 and WC-135 flights in the area.
Related articles