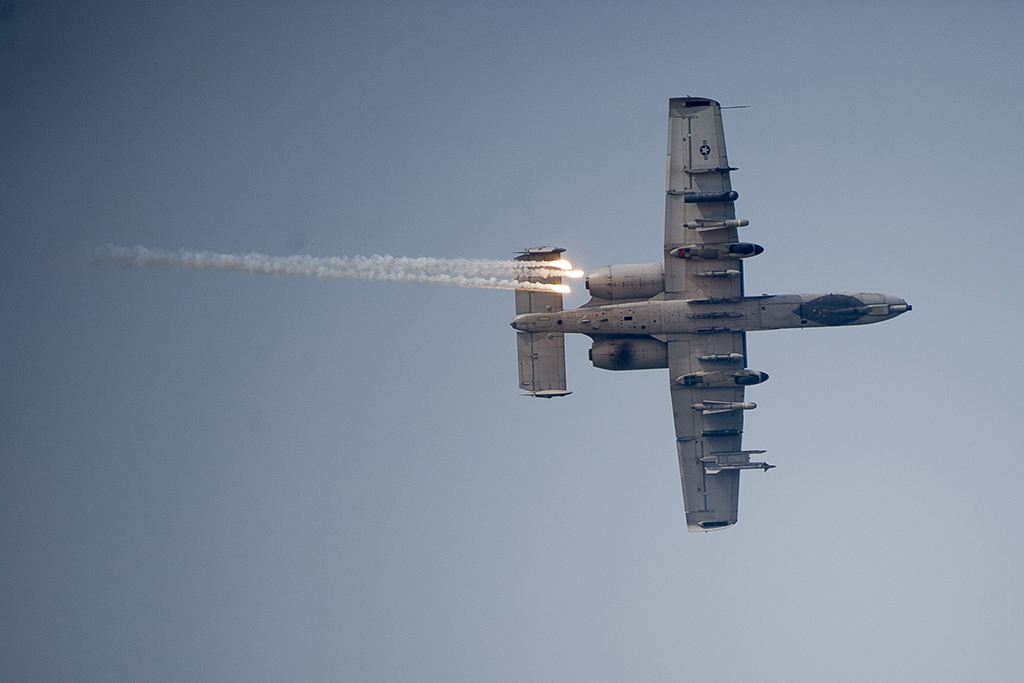 ISIS claims they have shot down a U.S. Air Force A-10 in Syria. But U.S. military deny.
ISIS claims they have just shot down a U.S. Air Force A-10 Thunderbolt II aircraft west of Markadah, southwest of Hasaka, in Syria.
However, the Pentagon has denied the news.
Therefore, unless something different emerges (it's not clear whether U.S. authorities are denying any loss or just the loss of a Thunderbolt), the call is bogus and all the A-10s deployed to the region are still in pretty good shape continuing their daily work in support of Operation Inherent Resolve. A support that has started about 2 years ago.
#ISIS claims it shot down a US A10 "Warthog" west of Hasakah in eastern #Syria. No confirmation yet. pic.twitter.com/2fYTDrvl6F

— Michael Horowitz (@michaelh992) October 20, 2016
Indeed, during the week of Nov. 17-21, 2014, the U.S. Air Force moved a squadron-sized element of A-10C Thunderbolt aircraft from Bagram, Afghanistan, to Ahmed al Jaber airbase, in Kuwait, to join the fight against Daesh.
The aircraft belonged to the 163rd Expeditionary Fighter Squadron "Blacksnakes", part of the 122nd Fighter Wing of the Air National Guard, based at Fort Wayne, Indiana.
Shortly thereafter, videos showing Warthog aircraft attacking ground targets in Al Anbar region, in western Iraq, using its GAU-8 Avenger a 30 mm hydraulically driven seven-barrel Gatling-type cannon emerged. The footage proved that the A-10 was back where 25 years earlier it had fought against Saddam doing what it does better than many other assets: attacking hostile targets that threaten friendly forces or assets on the ground.
Since then, the Hog (from various USAF units) has played an important role supporting Operation Inherent Resolve: it has carried out about one-third of the overall air strikes attacking the IS militants causing great losses (as when A-10s joined with AC-130 gunships and destroyed 116 ISIS fuel tanker trucks) and by deterring them from above.
However, the mission has put it at risk of being shot at by Daesh, using MANPADS (Man Portable Air Defense Systems).
For instance, in January 2015, U.S. A-10s were shot at with four Strela missiles near Mosul, in Iraq.
The Warthogs were targeted by the ISIS militants who attempted to shot down the A-10s flying at low altitude using9K32 Strela-2 (NATO reporting name SA-7 Grail) man-portable, shoulder-fired, low-altitude, IR (infra-red) guided, surface-to-air missile systems.
The A-10s were not hit but that episode just confirmed that Thunderbolts deployed to Kuwait could face MANPADS threat while flying at low and medium altitudes over Daesh positions.
Still, the "Hog" is a tough plane, that has already shown its special ability to bring the pilot back to the homebase in spite of heavy damages by ground fire.
If you want to read more about the A-10 involvement in the air war against Daesh, visit this link, register and download our exclusive ebook here.
Related articles
Salva
Salva
Salva
Salva