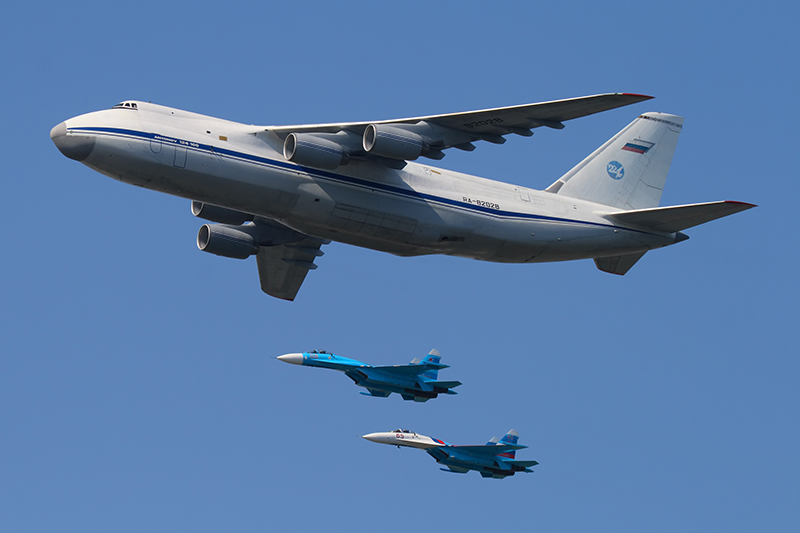 It's not easy to move 28 aircraft and keep the deployment confidential.
Satellite imagery released in the last couple of days has exposed the presence of 28 Russian aircraft at al-Assad airfield, near Latakia, in western Syria.
The photographs taken from space gave us the possibility to identify the combat planes as 4x Su-30SMs, 12x Su-25s (based on their color scheme, these are Su-25SMs belonging to the 368th Assault Aviation Regiment from Budyonnovsk) and 12 Su-24M2s along with about a dozen helicopters, including 10 Mi-24PN, Mi-35M and a couple of Mi-8AMTSh choppers, from the 387th Army Aviation Air Base Budyonnovsk.
One of our sources with IMINT Imagery Intel experience, who has had access to the imagery in the public domain, noticed something interesting on one of the Su-30SM: the first on the left (the one closer to the runway threshold) should be equipped with a KNIRTI SPS-171 / L005S Sorbtsiya-S mid/high band defensive jammer (ECM) at the wing tips. To be honest this is almost impossible to verify unless more high-resolution images become available.
Whilst satellite shots provided much details about the deployed assets, they obviously didn't help answer the basic question: how did they manage to reach Syria undetected?
According to one source close who wishes to remain anonymous, the Russian combat planes have probably deployed to Latakia trailing the cargo planes that were tracked flying to Syria and back on Flightradar24.com, something that other analysts have also suggested.
There is someone who believes that during their ferry flight, some if not all the formation (each made of a cargo plane and four accompanying fast jets), may have made a stopover in Iran before flying the last leg to Latakia. This would also explain why some Il-76s (with an endurance that would allow a non-stop fly from Russia to Latakia) were observed stopping at Hamadan on Sept. 18-19, just before the Sukhois started appearing on the tarmac at Latakia.
Also interesting is the activity of several Israeli aircraft, including a G550 "Nachshon Aitam," a sort of mini-AWACS equipped with 2 L-band antennas, on both sides of the fuselage, and 2 S-band antennas, on the nose and tail of the aircraft.
The G550, a so-called CAEW (Conformal Airborne Early Warning) asset, flew a mission over the eastern Mediterranean Sea off Lebanon on Sept. 20 (and could be tracked online on Flightradar24.com…).  Just a coincidence?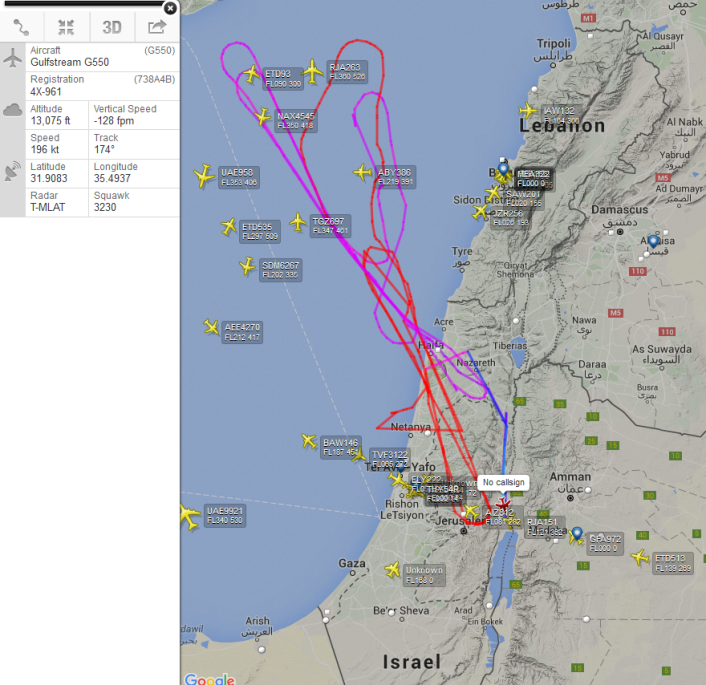 Top image credit: Sergey Kustov via Wiki. Bottom image credit: Flightradar24.com
Related articles