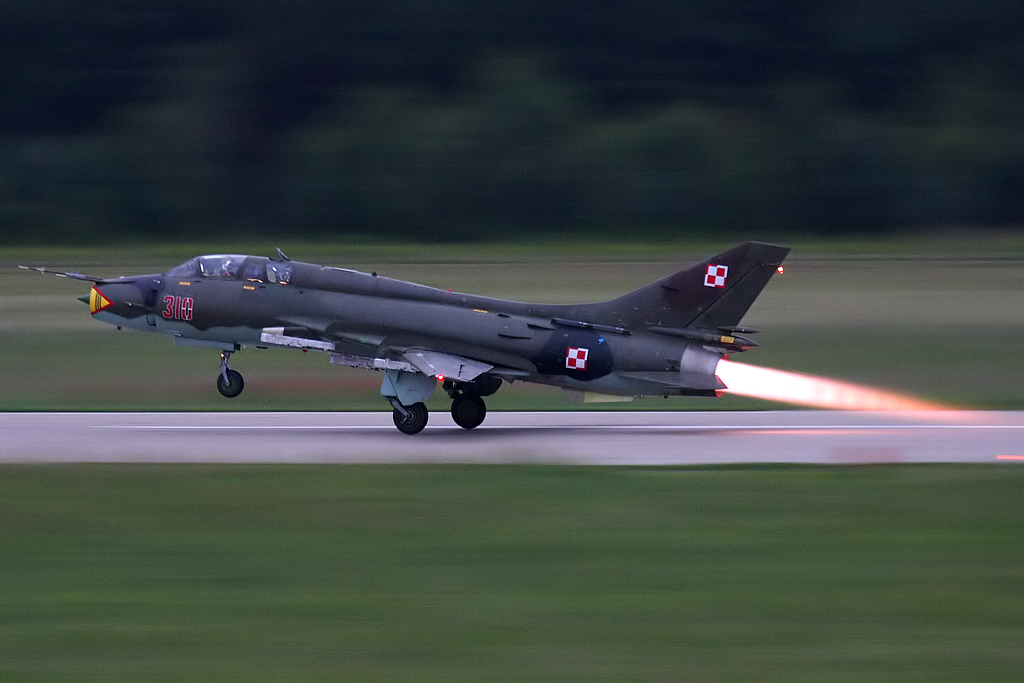 Polish Air Force Su-22 Fitters will be modernized.
According to the Polish Minister of National Defense Tomasz Siemioniak, who talk to media during his visit to Świdwin airbase, the iconic Cold War fighter bombers will be upgraded.
The Polish Air Force currently operates an aging fleet of 26 Su-22M4's and 6 Su-22UM3K. The decision on the extent of the upgrade is to be made mid-March, this year. Earlier the Fitters were planned to be withdrawn by 2015 and replaced by UAVs (Unmanned Aerial Vehicles).
Basically two options are considered.
The first assumes that all the planes are to be modernized and fly for another 3 years. The second option is to modernize just one squadron (16 planes), but to extend the Fitter's life up to 10 additional years.
The modernization is not to be expensive, and is to be carried out by the Military Aviation Works no. 2 in Bydgoszcz, the same plant that takes care of the Polish F-16 Block 52+ fighters.
There is no clear information available as to the scope of modernization. The first rumors of a possible Fitter upgrade were heard in the beginning of the 1990s. Budget constraints were the main reason the works were stopped. Still, the plane is quite obsolete, and because of the lack of radar and precision guiding systems is dubbed a blind boxer by its pilots.

When it comes to the reasons why the Su-22 fighter-bombers are to be modernized it is all caused by postponing the decision about buying a new multirole jet, and personnel skills, that cannot be thrown away when the Fitters are withdrawn from service.
The 21st Tactical Air Base is also to be modernized, in order to accomodate modern multirole fighters by 2022.
Jacek Siminski for TheAviationist
Image Credit: dlapilota.pl
Related articles