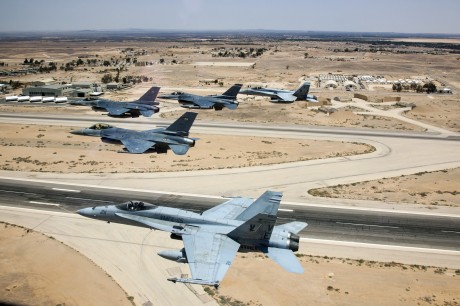 The U.S. Air Force has just released some nice images showing the air power build up in the Middle East.
One of the most interesting images depicts a Jordanian F-16 Fighting Falcon leading another Jordanian F-16, as well as an American F-16 from the 120th Fighter Squadron, Colorado Air National Guard, and two Marine F-18s from VMFA-115 over a training base in Northern Jordan. during Eager Lione exercise.
An "annual" exercise, Eager Lion is a "U.S. Central Command-directed, irregular warfare-themed exercise focusing on missions the United States and its coalition partners might perform in support of global contingency operations."
Image credit: U.S. Air Force
Almost ignored by media last year, the 2013 edition of the largest exercise in the Central Command Area of Operation is seen by some analyst as a sign that the U.S. has started to amass a fighter jet armada near Syria, to manage an eventual No-Fly Zone.
Related articles