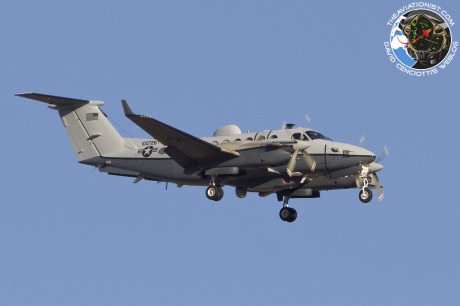 The following video shows an MC-12W Liberty of the 9th Reconnaissance Wing during a mission over Afghanistan.
Although scarcely known, the MC-12W is one of the most valuable U.S. ISR (intelligence surveillance reconnaissance) platforms: it is used to supports ground forces tracking high-value and time-sensitive targets, including people, as well as provide tactical intelligence and airborne command and control for air-to-ground operations.
Indeed, the MC-12W, that took part to the last Red Flag at Nellis Air Force Base in February 2013, is a spyplane specialized in "find, fix, and finish" bad guys.
The footage is particularly interesting as scenes not only include take off and recovery ops but also interior of aircraft, Wescam sensors, night operations, operators and tactical systems operators: a rare glimpse inside such a rare, spooky bird.
Note the HD live video provided to the sensors operators on board the Liberty by the aircraft's Wescam camera.
The MC-12W is a military version of the Hawker Beechcraft Super King Air 350 and Super King 350ER: the U.S. Air Force plane was given a full array of sensors, a ground exploitation cell, line-of-sight and satellite communications datalinks, along with a robust voice communications suite.
The aircraft is equipped with an electro-optical infrared sensor and other sensors as the mission requires. The EO/IR sensor also includes a laser illuminator and designator in a single sensor package. The MC-12 system is capable of worldwide operations.
It lacks only weapons. At least for the moment….
Related articles