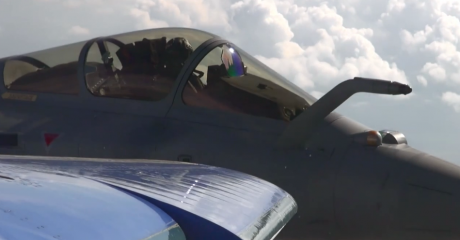 This video is not only interesting for the quality of the footage.
What's really intesting is the fact that it shows the Patrouille de France, the French Air Force display team, performing some (basic) aerobatic maneuvers with a couple of Rafale multirole fighter jets.
Even if display teams fly in formation with aircraft of a different type to celebrate specific events or air-to-air photo shootings (the large final formation including Mirage 2000s is a clear example of such episodes), they usually don't fly the whole or part of their display (not even a loop, as shown in the video) with other aircraft not belonging to the team.
This is because the peculiarities of the formation aerobatics are such that a long and focused training is required to be able to fly aerobatic maneuvers so close to other planes, a kind of flying not normally conducted by pilots belonging to operative combat units.
Anyway, the French Air Force did a great job and the resulting short promotional video is quite cool.
PATROUILLE DE FRANCE vs RAFALE www.patrouilledefrancelefilm.com from AIRBORNE FILMS on Vimeo.
Related articles