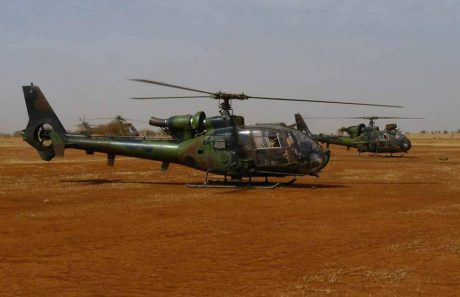 Operation Serval: this is the name of the French operation in Mali.
Launched on Jan. 11, 2013, at the request of the Malian authorities and the United Nations, the French operation kicked off with a raid performed by attack helicopters to stop the progression of a column of jihadist elements enroute to Konna, near Mopti in the center of the country.
According to the French MoD, that on Jan. 12 released the first official information about the French activities in Africa, this first action was led by Gazelle helicopters with the 4ème Régiment d'Hélicoptères des Forces spéciales (RHFS), armed with HOT missiles and 20 mm caliber guns and allowed the destruction of four vehicles and led to the withdrawal of the column.
Image credit: French MoD
During the raid, one of the choppers was hit and a French pilot was deadly wounded by small arms fire and died at a local hospital.
However, the air campaign to support the Malian army did not only involve light attack choppers.
On the night between January 11 and 12, four Mirage 2000D jets of the Epervier group, conducted air strikes in the north of the country. The attack planes took off from N'Djamena, in Chad, and were supported by two tankers C135.
Currently two Mirage F1 CRs, six Mirage 2000Ds, three C135 tankers, one C130 and one C160 Transall are deployed to N'Djamena. Rafale multirole fighters are on heightened alert status and ready to deploy, should the need arise. Tigre helicopters are being deployed to Ouagadougou, in Burkina Faso.
About 200 soldiers belonging to the ground component of the Epervier have reached the Malian capital, Bamako, by means of C-13o Hercules and C-160 Transall airlifters.
As a consequence of the air campaign in Mali, France has upped the terror threat level for its citizens worldwide.
Related articles