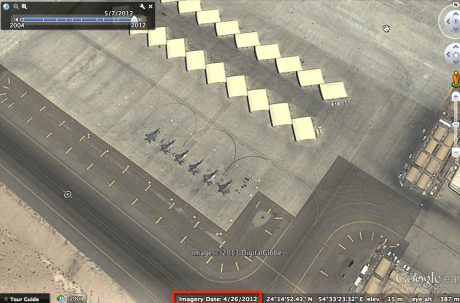 Even if we have often reported the presence of the F-22 Raptors at Al Dhafra, satellite imagery showing five radar evading planes parked at the main airbase in the UAE has been made publicly available for the first time recently.
The aircraft, parked next to an F-15E Strike Eagle, are five of the six F-22 that had (more or less secretely) deployed in South East Asia from Holloman New Mexico, via Moron, Spain, on Apr. 20, 2012.
The image is not only interesting because it shows the main U.S. Air Force plane about 100 miles from Iran, but also because it is the first one to show fast jets on one of most important U.S. airbases in the region.
Using the time option on Google Earth, you may even observe how the airbase has grown since 2004: the large apron in front of the light hangars where the F-22 were parked in April 2012, did not exist in the satellite image taken 9 years ago.
Image credit: Google Earth
Moreover, if you watch the imagery of the subsequent years you will notice that only support planes (E-3s, KC-135s etc) could be seen stationed at Al Dhafra: the presence of the F-22s beginning in 2012, is a clear sign of how the situation in the region has gradually changed with an increasing tension with Iran.
Related articles