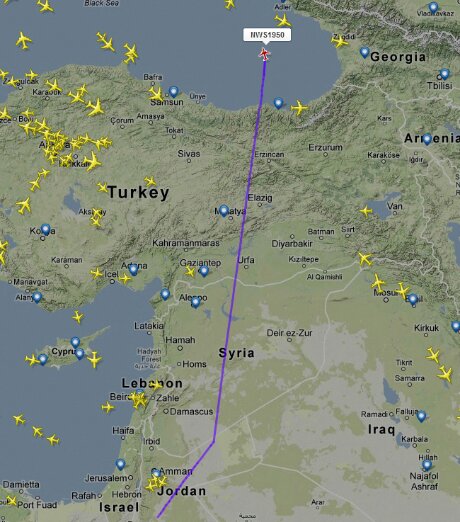 Media outlets are reporting that a Russian passenger jet that was flying from the Egyptian tourist resort of  Sharm el-Sheikh (although some sources say the flight departed from Hurgada) to the Russian city of Kazan,  in Russia's Republic of Tatarstan, came very close to being blown out of the sky.
The jet an Airbus A-320 belonging to the charter airline 'Nordwind Airlines' with the flight number of NWS1950 found itself targeted by two missiles whilst flying over Syria.
The crew reportedly spotted the incoming missiles and took evasive action; it must have been a quick reaction since the plane was probably crusing under autopilot control.
Both missiles exploded close to the jet with 200 passengers on board but did not cause any damage to the jet.
"The crew spotted signs of combat activities which, they believed, could pose a threat to the safety of the plane" stated Russia's Transport Ministry, citing the Federal Air Transport Agency (Rosaviatsia) according to Russia Today.
Details are very scarce but the incident took place on Monday Apr. 29 and according to the interfax news agency the Russian Foreign ministry are looking into the circumstances behind the incident.
It remains unclear who is responsible for the attack which could have cost 200 people their lives, although Syrian Air Traffic Control said that they were unaware of any Russian aircraft coming under attack.
The flight can been seen on the flightradar24.com website here.
The track doesn't seem to show any route deviation that might be a sign of evasive maneuver but this maybe just a matter of scale.
For sure, the Airbus 320 was flying at FL340 ruling out the possibility that it was targeted by a MANPADS.
The Aviationist will provide more details once they became available.
Written with David Cenciotti. Giuliano Ranieri has contributed to this post
Recent articles