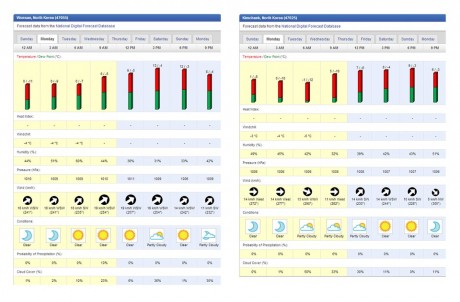 Although they have already begun celebrating it in the past few days, North Koreans consider April 15,  birthday of Kim's grandfather, Kim Il Sung, the most important of national holidays.
This year, no military parade or mass events are expected, but since major holidays have been used in the past to show North Korea's military power to the world, many analysts believe Monday's celebration could be the date chosen for a provocative missile launch, provided Pyongyang will eventually decide to conduct one.
If depended on the weather conditions at the suspected missile test facilities, the missile launch would be a go, based on the forecast.
Wonsan area (Wonsan, Kyttaeryong and Okp'yŏng-dong missile base) and Kimchaek area (Musudan-ri, Komdok-san, Sanganam-ri and Kilchu missile bases) weather conditions look good for both a (likely) daytime launch and a (less likely) night test launch.
Reconnaissance planes are monitoring movements on the ground, huge Sea-Based X-Band radar, THAAD batteries are in place. Let's see what happens.
H/T to Giuliano Ranieri for the heads-up
Data from the National Digital Forecast Database via Weather Underground.