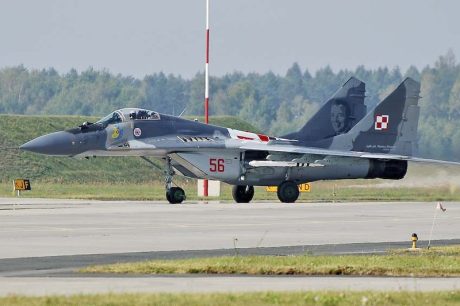 On Mar. 15 the first Polish MiG-29 to have undergone avionics upgrade in the  Military Aviation Service Facility no. 2 (Wojskowe Zakłady Lotnicze nr 2) in Bydgoszcz took-off on its maiden flight. The upgrade plan aims at prolonging the combat potential of ex-Soviet made aircraft still being in service within the Polish Air Force.
Image Credit: Jacek Borzyszkowski
The planes being upgraded are from the 23rd Tactical Air Force Base in Minsk Mazowiecki.
The test flying programme is carried out by three pilots from Minsk and Malbork bases. The programme schedule includes using live armament (mainly gun) on the 21st Central Aviation Range (21. Centralny Poligon Lotniczy) in Nadarzyce.
All of the MiGs undergoing modernization are said to receive the new avionics by the end of next year.
The scope of modernization includes changing the analog avionics to digital ones, including new mission planning computer and data bus, to which additional devices may be connected.
Furthermore, the mechanical gyro is replaced with a laser system. Digital map and MFD (Multi-Function Display) are features of the programme.
MiGs are said to remain in service till 2028-2030. The data bus will allow for further changes in the avionics if needed.
MiG bureau also took part in the programme extending the service life for another 20 years (the MiGs in Polish Air Force are already 20 years old).
The exploitation programme has been changed – the MiGs do not have to undergo general repairs each 800 hours they spend in the air, but they will be used according to their technical status.
The Polish MiGs have already undergone modernization couple of years earlier, aim of which was to adapt the cockpit to NATO standards (English language indicators and gauges).
Worth noting: the Polish MiGs recently received new paint-job with portraits of the aviators that took part in Battle of Britain. The portraits are located on the vertical stabilizers.
Jacek Siminski for TheAviationist.com
Related articles