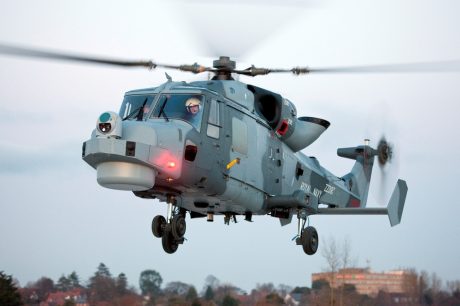 Jan. 28 saw the first AW159 "Wildcat" destined to the Royal Navy make its first flight from AgustaWestland's Yeovil production facility. The chopper, a Naval version HMA MkII is the first of 28 examples destined for the Royal Navy.
The Wildcat will be armed with a wide array of weapons from "Sting Ray torpedoes, a door-mounted 0.5 inch heavy machine gun and new light and heavy variants of the Future Anti-Surface Guided Weapon Missiles," according to the Royal Navy's website.
Although the Wildcat is strikingly similar to the Mk8 AugustaWestland Lynx it is an evolution of the Lynx rather than a face lift, so much so it has had to go through the same testing regime as a new aircraft (which it is) would. The Wildcat has a more robust airframe, more powerful engine and updated, upgraded sensors.
On the Royal Navy website quoted Chief of Naval Staff, Admiral Sir Mark Stanhope, said:
"As a ship borne helicopter, Wildcat will provide Commanders with a flexible attack capability which can be deployed to tackle a range of threats at sea and from the sea."
"With state of the art sensors, equipment and weapons, it will be an outstanding asset that will maintain Royal Naval units at the cutting edge of worldwide maritime operations."
The Navy website also quoted Minister for Defence Equipment Support and Technology, Philip Dunne, as saying:
"The new maritime Wildcat Attack Helicopter is an excellent addition to the Royal Navy's arsenal, providing it with greater firepower and a range of technological enhancements."
"The support and training contract with AgustaWestland is also good news for the local economy in Somerset, securing 500 highly skilled jobs in the Defence sector."
This milestone comes shortly after AugustaWestland announced the first export customer for the AW159 in the South Korean Navy with an order for 8 examples including crew training and initial spares and support services.
Richard Clements for TheAviationist.com
 Image credit: AgustaWestland