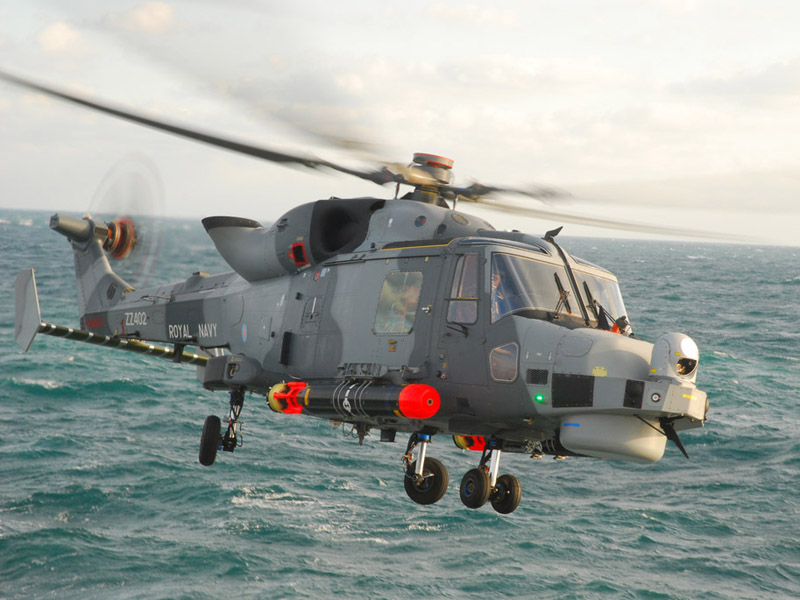 The Royal Navy's next generation of light utility helicopter, the Agusta Westland AW159 Wildcat prototype (serialled ZZ402) has recently been at sea for the first mini-cruise with HMS Iron Duke.
Although it looks similar to the final variant of the Lynx Mk8 externally, the AW159 is much different from its predecessor: it is built using modern composite materials, has much more powerful engines (to help in hot and high climates) and a whole new glass cockpit.
For this reason, "a new rulebook has to be written to define what are known as 'ship-helicopter operating limits' – the guidelines for safe Wildcat operations by day and night in various weather conditions and with different payloads" as explained by the UK's MoD in a recent press release.
AW159's maiden flight from Yeovilton took place on Nov. 12, 2009 and there are plans for a fleet of 65 helicopter split between the Royal Navy and the British Army, with an additional 8 airframes for special forces use (how these differ from the standard version is unknown).
In the Navy's hands the Wildcat will perform anti-surface warfare (ASuW), SAR and general utility duties operating from the flight decks of the frigates and destroyers.
The 20 days of trials on board Iron Duke (in two 10-day periods, the first in mid-January, the second at the beginning of February) were designed to put maximum stress on the airframe and engines. A myriad of sensors attached all over the helicopter, rotor blades, engines and gearbox recorded more than 4,000 different items of data that will be analyzed to set the limits for Wildcat operations at sea.
The sea trials, including some 400 landings in all weather conditions both day and night (using NVG – Night Vision Goggles), took the Iron Duke from the UK's south coast all the way to the north Scottish coast to find every type of weather conditions the type is likely to find once the helicopter enters service with the Navy in 2015.
Richard Clements for TheAviationist.com
Image credit: Crown Copyright