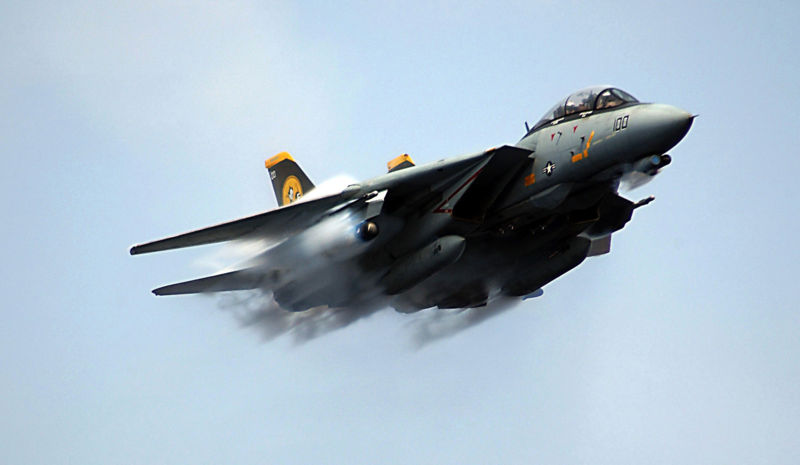 Several years since it was eventually retired from the U.S. Navy, the Grumman F-14 Tomcat remains one of the aviation enthusiasts' most loved planes.
Any article about the iconic fighter plane (still operating with the Islamic Republic of Iran Air Force) its story, capabilities, records and surrounding anecdotes, always becomes a much debated and commented post on The Aviationist.
For this reason, we will continue writing about this legendary plane and its replacement: the F/A-18E/F Super Hornet.
The following video, part of a documentary uploaded to Youtube, shows both the first flight and the first crash of the legendary F-14 Tomcat.
On Dec. 21, 1970, the first Full Scale Development (FSD) Grumman F-14A Tomcat (BuNo 157980) took off for its maiden flight from Grumman's flight test centre at Calverton.
That day, Grumman chief test pilot Robert K. Smyth and project test pilot William Miller decided to take off in spite of the bad weather: the poor wx (weather) conditions, however, forced the test pilots to cut the flight (consisting in a couple of visual patterns with the wings in the forward position) short.
Although the flight lasted less than initially planned, the first Tomcat took the air a month ahead of the contracted data and showed the great potential of the aircraft.
The F-14 BuNo 157980 took off for the second time on Dec. 30 and that day Miller sat in the front cockpit since in the first flight Smyth had been in front.
It was during this flight that a chase plane noted that the Tomcat was leaving a trail of smoke: shortly thereafter the F-14 experienced a primary hydraulic system failure forcing Miller to head immediately back to base.
While they were preparing to land, the secondary hydraulic system also failed, due to the use of the emergency nitrogen bottle to lower the landing gear: once it failed, the crew tried to rely on the Combat Survival System which had to supply the power to the rudders and tailerons only.
However this last limited control system showed signs of failing as well, the pilot lost control all over the aircraft and the crew was forced to eject.
The breakdown was caused by a fatigue failure of both titanium main hydraulic lines due to a coincidence of pump resonance and a loose connector: ironically, the F-14's hydraulic system was fixed by changing from titanium to stainless steel hydraulic lines only.
As you can see from footage (around 03:20 min), the crew ejected only few meters above the trees but, luckily, they suffered only minor injuries.
Sadly, Miller died on 30 June 1972 when its Tomcat crashed into Chesapeake Bay during preparation for an air display with the tenth FSD F-14 (BuNo 157989), while Smyth passed away this year.
Both Smyth and Miller contributed in bringing the last in a long tradition of Grumman Cats to life .
Written with David Cenciotti
Image credit: U.S. Navy
Related articles