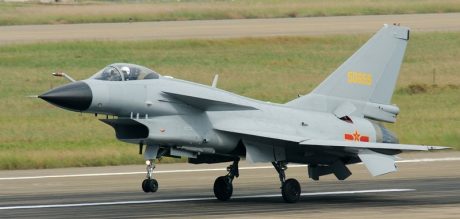 The Want China Times has quoted the Tokyo's Sankei Shimbun newspaper as saying that Chinese J-7 and J-10 fighters tailed two US aircraft as they reached the airspace close to the border between China and Japan.
The two U.S. aircraft allegedly shadowed by the People's Loberation Army Air Force were a U.S. Navy P-3C from Misawa and a U.S. Air Force C-130 from Yokota airbase.  According to the Japanese media outlets, the Chinese fighter jets were scrambled to intercept them.
Image credit: Wiki/Retxham
This incident took place on January 10, the same day when a  Japanese reconnaissance aircraft attached to Japan's Maritime Self-defence Force were dispatched to monitor Chinese aircraft movements near to the disputed Diaoyutai islands (Senkaku in Japan).
The following day Japanese F-15J Eagle interceptors tailed two Chinese J-10s that were launched to observe Japanese aircraft movements close to the border.
Even if it would appear that both sides are only conducting routine patrols in the area, there is a concrete risk that such close encounters turn into something more serious, escalating tensions into a conflict.
On April 1, 2001, a U.S. Navy EP-3E SIGINT plane was intercepted by a PLA Navy J-8 of the island of Hainan. The two planes went a bit too close each other and collided mid-air.
The collision, caused the death of the Chinese fighter pilot, whereas the American spyplane was forced to perform an emergency landing on Hainan.
The 24 crew members were detained and interrogated by the Chinese authorities until being released on April 21, 2001.
Written with Richard Clements
Related articles