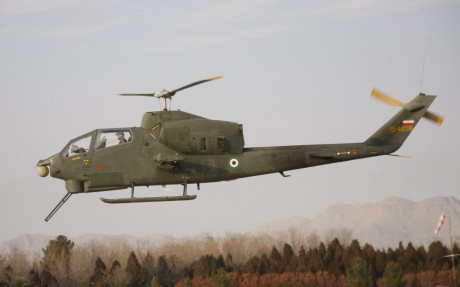 Toufan 2 (English for Storm 2), is the name of Iran's latest combat helicopter that was unveiled on Jan. 2 on the sixth and final day of naval exercises spanning the Strait of Hormuz to the Indian Ocean, during a ceremony attended by the country's Defense Minister Brigadier General Ahmad Vahidi.
Tehran claims the "chopper belongs to a new generation of combat helicopters and enjoys modern and advanced technologies, including high-precision targeting capability," however the chopper seems to be just a new version of the American made AH-1J Cobra that Iran procured in 1971.
Image credit: FARS News Agency
The Toufan 2 is a domestically upgraded Cobra developed by the Iranian Aviation Industries Organization (IAIO). The main difference from the version already in service is the Electro Optical Surveillance and Tracking System that is believed to use FLIR (Forward Looking Infra Red) technology, visible electro-optical imagery, as well as laser designation and illumination to provide target identification, ranging and tracking capability.
Related articles