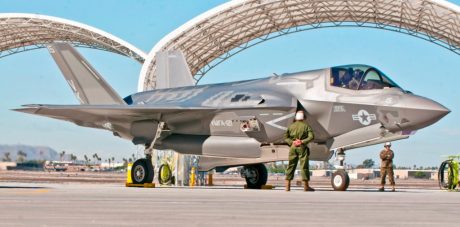 On Nov. 16, at approximately 1 p.m., Third Marine Aircraft Wing's first F-35B, piloted by F-35 pilot instructor Maj. A. C. Liberman, landed at Marine Corps Air Station Yuma.
The arrival of the first next gen aircraft is the highlight of the official re-designation of Marine All Weather Fighter Attack Squadron 121, an F/A-18 Hornet Squadron, as the world's first operational F-35 squadron. The formal ceremony is scheduled for Nov. 20.
Capable of short take off and vertical landing (STOVL), the F-35B is the Joint Strike Variant the USMC will use to replace the Corps' F/A-18 Hornet, AV-8B Harrier and EA-6B Prowler.
A new F-35 is expected to be delivered each month until a squadron is fully operational on the type at Yuma, something the service expects to complete by early summer next year. By 2020, five squadrons with 16 airframes each and one test squadron with 8 planes: 88 F-35s will replace the base's existing squadrons of 56 Harriers.
Noteworthy, VMA-211, that lost six AV-8B Harrier jets in a deadly Taliban attack on Camp Bastion that took the life of the squadron commanding officer in September, will be the second Yuma squadrom to transition to the F-35.
Photo by LCpl. Bill Waterstreet
Related articles