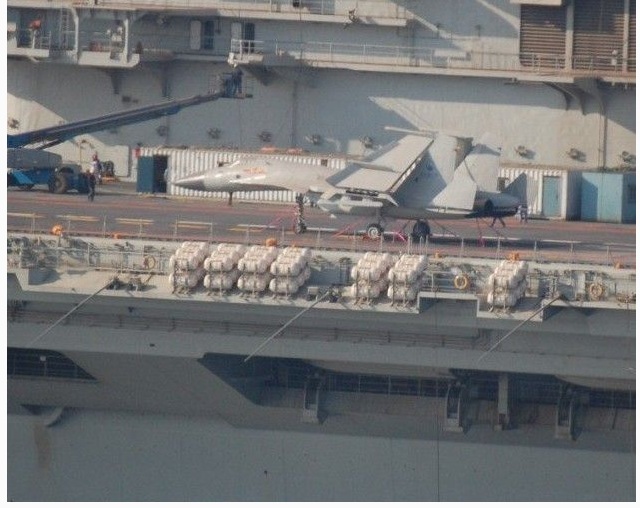 As reported by The Dew Line, Flightglobal's Greg Waldron has found some interesting pictures showing China's new carrier, the former Soviet vessel, Varyag with a Flanker copy on board.
The most interesting photo, that can be found with a  quick search of the Chinese Internet, is that of what appears to be a modified Shenyang J-15 which is a copy of the Russian Su-33 carrier variant of the Flanker.
FG's Dave Majumdar points out that the forward fuselage is shorter and fatter, and also the cockpit canopy and the area behind have been modified from earlier known versions of the Chinese J-15 combat plane with what looks like a raised spine.
He speculates that it could be a test aircraft running a new radar or simply a deck handling mock-up.
Indeed, a further search finds evidence that the photos were taken in March 2012 when full size replicas of the J-15 fighter jet and Z-8 helicopter (most probably used for training purposes) were spotted on board the Varyag for the first time.
Richard Clements for TheAviationist.com
Image credit: Chinese Internet/China Defense Forum
Related Articles