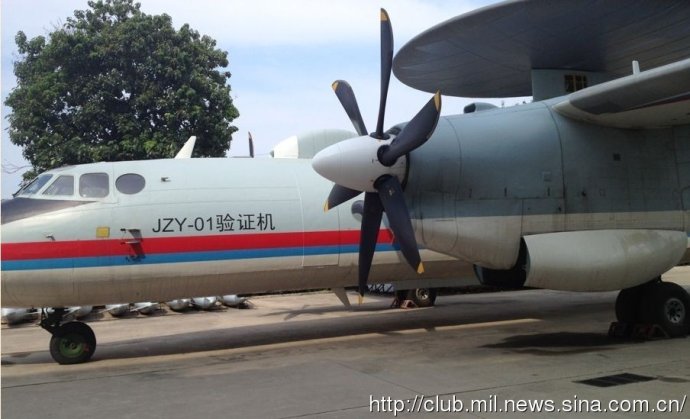 A couple of interesting images were published on some interesting Chinese defense forum of what appears to be a testbed for a carrier-borne Airborne Early Warning aircraft.
Is this a sign that China is currently evaluating the possibility to develop such a platform for its aircraft carrier(s)?
Image credit: http://club.mil.news.sina.com.cn/
Designated JZY-01, the aircraft seems be a sort of hybrid: the front half is based on the Xian Y-7, the Chinese version of the famous Antonov An-26; the tail section is much similar to the Northrop Grumman C-2 and, above all, the E-2 Hawkeye that is the U.S. AEW platform serving on all the American supercarrier.
The JZY-01 sports a large radome and a 6-blade propeller (as opposed to the E-2C that features an 8-blade one).
Still, this interesting plane will hardly be able to operate from an aircraft carrier: the example shown in the above pictures lacks the typical launch bar, that is used attach the plane to the catapult, nor is equipped with the arrestor hook, needed to land on a carrier.
Furthermore, as Flightglobal's Greg Waldron noticed, it can't operate from the former Russian aircraft carrier Varyag that it is equipped with a ski-jump, suitable for jet powered fighters but not for large (AEW) aircraft.
Therefore, although resembling an E-2, the JZY-01 may simply be a land-based AEW aircraft or the first attempt at developing such a platform for a future Chinese flattop.
Related Articles