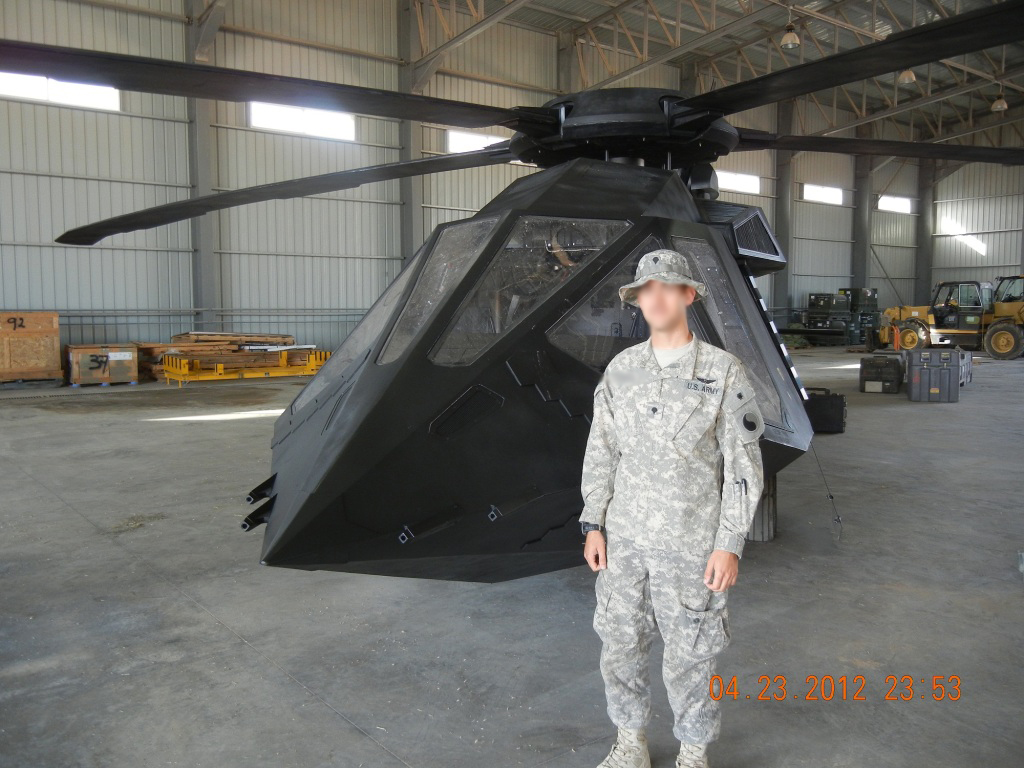 Update Aug. 7, 2012 23.45 GMT
Read the comment thread for more information about the helicopter, identified as prop.
Although I'm not sure the one depicted in the photo below is really a new stealth chopper like the one exposed by the Osama Bin Laden raid in May 2011, I find the following image extremely interesting.
It shows a U.S. soldier posing in front of a seemingly radar-evading helicopter that doesn't remind me any known type of American helo.
The image file seems to be genuine and includes seemigly valid EXIF data (see below for details). I've just blurred the nametag and face of the U.S. Army serviceman (until I'm able to contact the user who uploaded it to ask him some questions – so far I've got no answer) just in case the image was leaked by accident on the Internet for anyone to see, share, download etc.
However, since it's hard to believe that anyone would post a picture of a secret chopper online posing next to it, the helicopter in the image, with some typical stealth features (including an F-117 type of nose as the one designed in 1978 for the stealth UH-60), could just be a full scale model used for a movie.
Indeed, a new movie titled Zero Dark Thirty, is due out Dec. 19. It will recall the chronicle of the decade-long hunt for Osama bin Laden after the 9/11 attacks. Here's the film's teaser trailer.
Is the one in the picture the fictional chopper used in the new movie or something else?
Don't you think it has something in common with the famous Stealth Black Hawk design I made with Ugo Crisponi?
What's your opinion?
Anyway, here's the EXIF data embedded in the image:
File Name: DSCN1884.jpg
File Size: 238 kb – 1024 x 768
Camera Make: NIKON
Camera Model: COOLPIX S8100
Date/Time: 2012:04:23 23:53:23
Resolution: 1024 x 768
Flash Used: No (auto)
Focal Length: 5.4mm (35mm equivalent: 30mm)
Exposure Time: 0.023 s (1/43)
Aperture: f/3.5
ISO Equiv.: 160
Whitebalance: Auto
Metering Mode: pattern
Exposure: program (auto)
H/T to Giuliano Ranieri for the heads-up
Related Articles