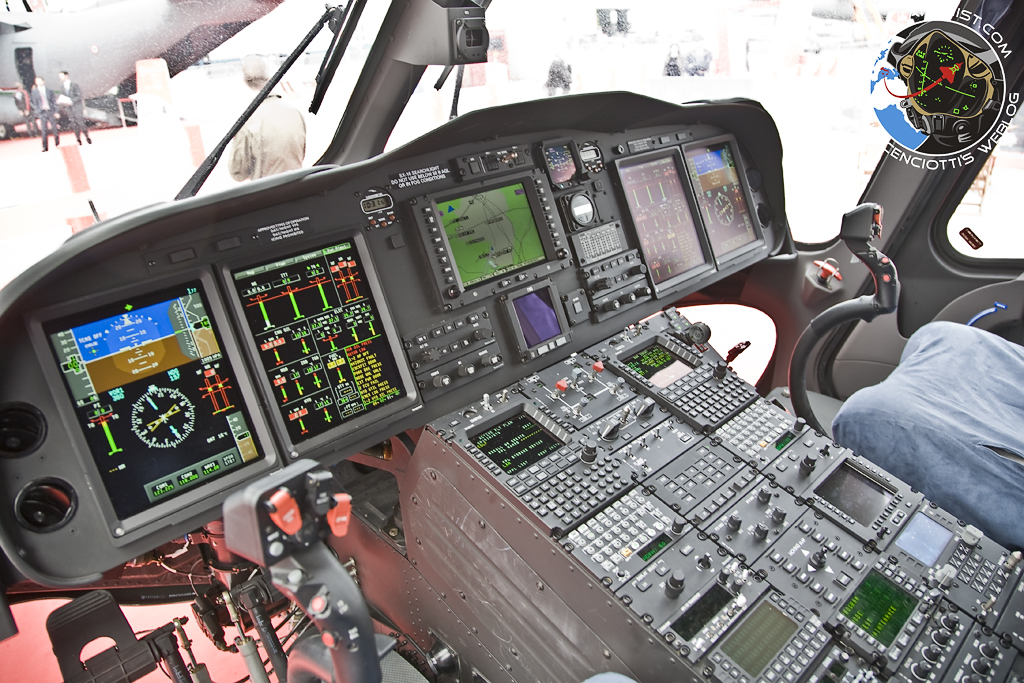 The following picture, taken at Farnborough International Airshow, gives a hint of what you might expect to find inside a modern (combat) helicopter.
The HH-139A is the military variant of the AgustaWestland AW139 helicopter operating with the Italian Air Force.
The multipurpose chopper, is equipped, among all the other things, with an integrated NVG-compatible glass cockpit featuring 8in×10in active matrix liquid crystal displays with advanced graphics generation capabilites and cursor control devices.
The cockpit features also 4-axis digital Digital AFCS (automatic flight control system) with SAR modes & FMS SAR patterns, weather/search radar, TCAS (Traffic Collision Avoidance System) II, FLIR (Forward Looking Infra-Red), Health and Usage Monitoring System (HUMS), Digital video recorder, Video downlink, Moving map on flat display, Auto-Deployable ELT (ADELT) and Enhanced Ground Proximity Warning System (EGPWS).
Image credit: Giovanni Maduli
Of course, you don't need to be a computer freak to be a HH-139A helicopter pilot. But you'll feel much more comfortable in such an advanced cockpit if you have some basic System Administrator's skills.
U.S. Customs and Border Protection, Los Angeles Fire Department, New Jersey State Police, Maryland State Police Aviation Command, and other major aero medical and search and rescue operators in North America are equipped with AW139 medium twin helicopters for emergency medical, search and rescue, law enforcement and homeland security missions.
Related Articles