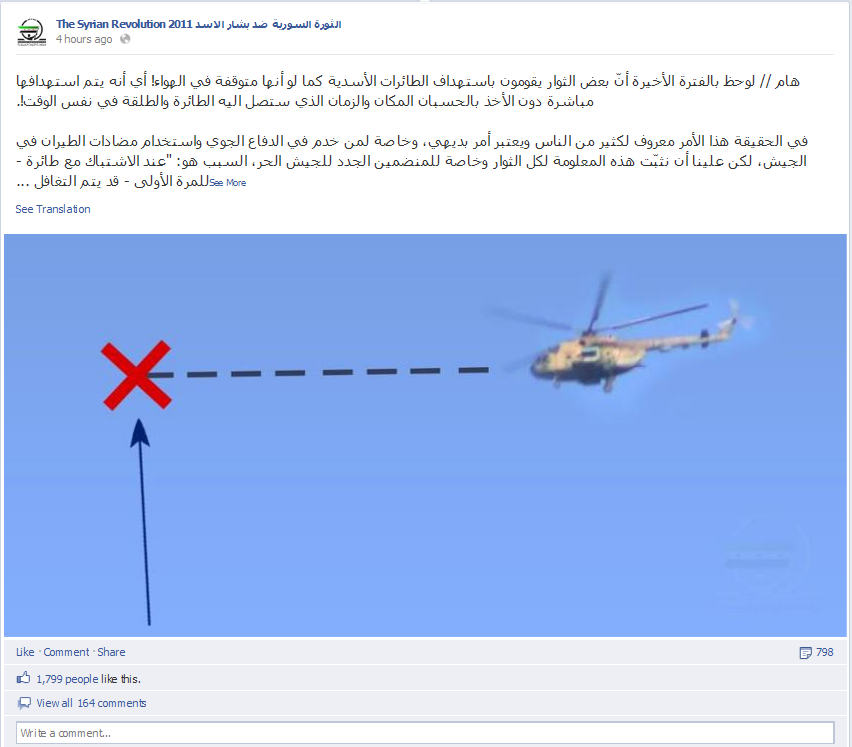 Mil Mi-8/17 Hip and Mil Mi-24 (25) Hind gunship helicopters (alongside made-in-Iran drones) have been Assad's main tools against the oppositors.
That's why the rebels have put the instructions on how to shoot down an helicopter on-line: the Syrian Revolution 2011 page on Facebook (with about 514K likes) has published a short text that provides hints on how to target a chopper.
Here's a (rough) translation (provided by Bing)
To all free people free national army …I've observed recently that some of the rebels are targeting aircraft alasdet as if they had parked in the air! Any that are targeted directly without taking account of space and time which will reach the plane and shot/shell at the same time!.In fact this is known for both served in the air force and Army aviation use, but to deliver this information to both HSS and the rebels and especially for newcomers to our free hero; we Dear Heroes to leave some distance between the plane and the access point, so that the shot hit the target in the appropriate place and time.The picture below shows a correction and payment when you reference x. And then the plane will arrive and she shot/shell, so drop goal.The seasoned in correction and drop aircraft can estimate the distance accurately, but affiliated with new free army needs to train and practice and awareness. Valnnshar dear HSS this image to all activists and perhaps up to members of the rebel army stationed on the fronts free in most Syrian cities.
Screen dump from Facebook
H/T to @bjoernen_dk for the heads-up
Related Articles