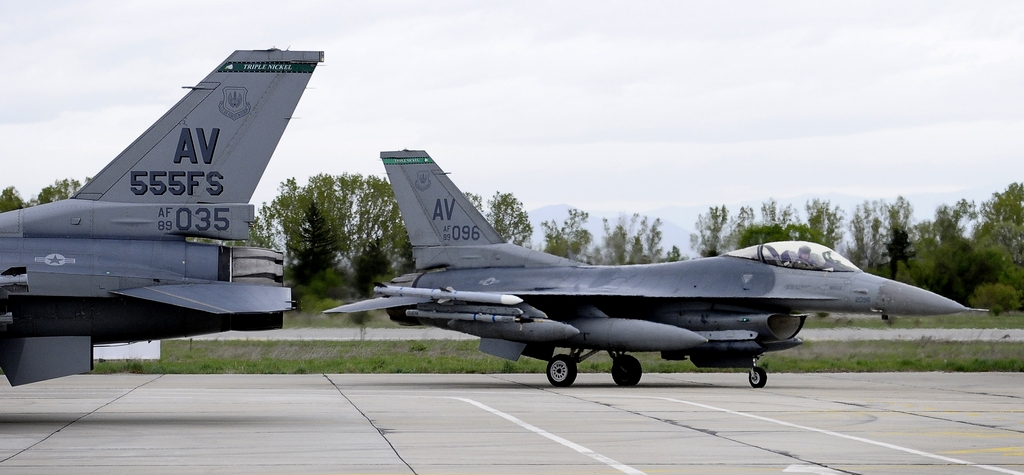 Eight years since President George W. Bush congratulated the prime ministers of Bulgaria, Estonia, Latvia, Lithuania, Romania, Slovakia and Slovenia for becoming NATO members, Bulgaria and United States continue to build upon their partnership.
For the third time since 2007 the 31st FW, based at Aviano AB, Italy, is conducting training with the Bulgarian Air Force: since Apr. 17, more than two dozen aircraft and 500 U.S. Airmen (including pilots, maintainers, joint terminal air controllers, firefighters and security forces) are deployed at Graf Ignatievo to take part in Thracian Star 2012, a month-long joint training exercise focused on increasing interoperability with the Bulgarian air force.
Although this is not the first time the Bulgarian air force has hosted American forces, Thracian Star 2012 boasts the largest contingent of Airmen ever operating in Bulgaria.
What's really impressive is that the 31st FW brought more than two dozen F-16s "about twice the amount than any other U.S. Air Forces in Europe wing thus far" in the words used by the Aviano AB press release.
Indeed, it is quite rare that a Wing sends two fighter squadrons to the same location for training purposes, a fact that measures the willingness of the U.S. to increase its presence in the East Europe, to such an extent, a relocation of the entire 31st FW from Aviano to Graf Ignatievo has been often hypothesized in the past.
Image credit: U.S. Air Force
Related articles