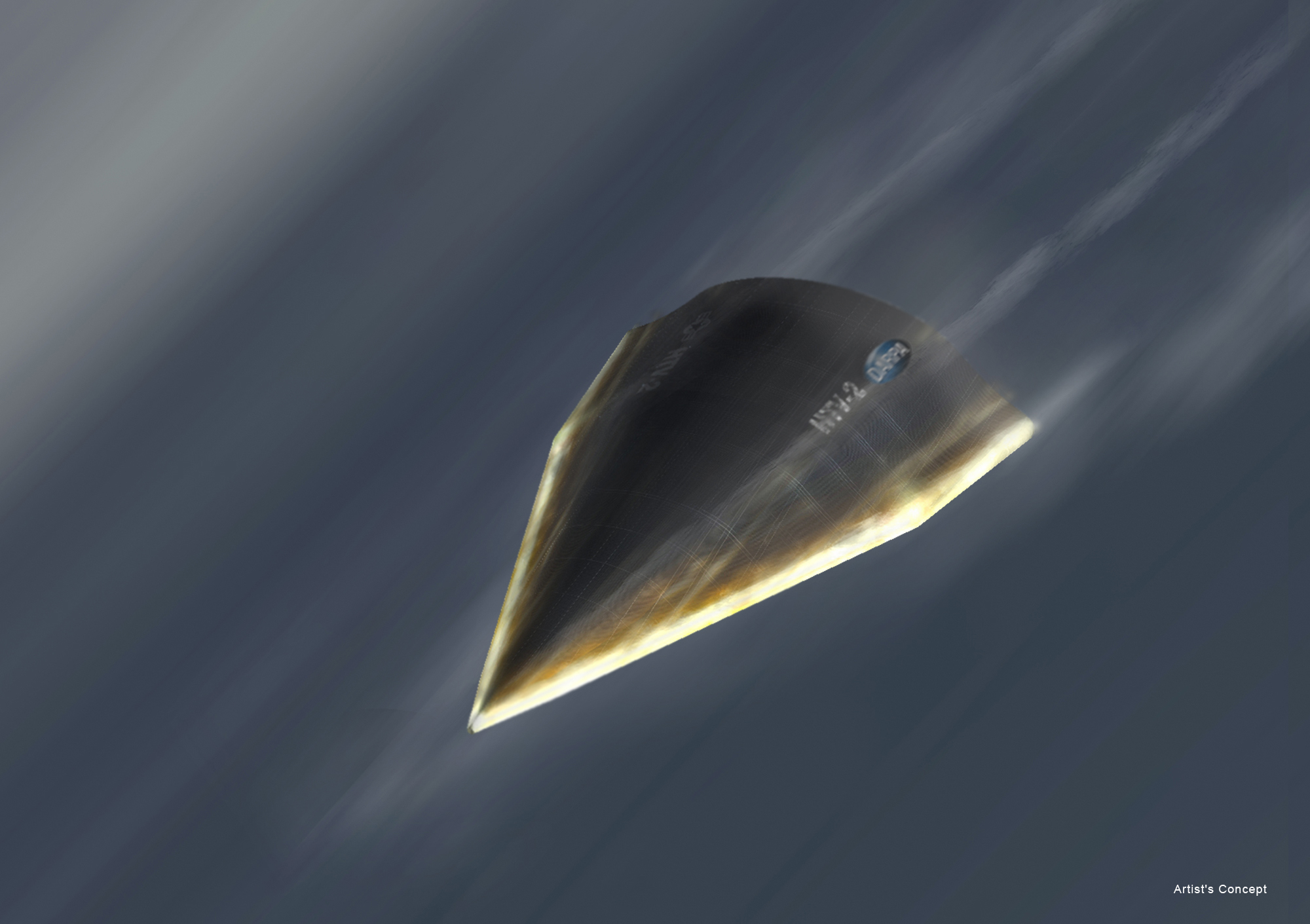 With a statement released on Apr. 20, Defense Advanced Research Projects Agency said that Mar. 20 failed test was (unsurprisingly) caused by the extremely high speeds.
Launched from Vandenberg Air Force Base, California, the Falcon Hypersonic Technology Vehicle 2 (HTV-2) was expected to travel westward for about 30 minutes before plunging into the ocean near Kwajalein Atoll, some 4,000 miles from departure, after a test flight aimed to test new technology that could boost the Pentagon's strike power.
However, nine minutes into the test flight, after demonstrating "stable aerodynamically-controlled flight" at speeds up to Mach 20, something went wrong.
As the aircraft travelled nearly 13,000 miles per hour in the higher parts of the atmosphere, larger than expected portions of the Falcon's skin peeled from the aerostructure. The resulting gaps created strong, impulsive shock waves around the vehicle causing the vehicle to roll abruptly with continued disturbances that exceeded the HTV-2 ability to recover stability.
Such anomaly prompted the flight safety system to opt the vehicle's aerodynamic systems to perform a controlled descent and splashdown in the ocean.
"The initial shockwave disturbances experienced during second flight, from which the vehicle was able to recover and continue controlled flight, exceeded by more than 100 times what the vehicle was designed to withstand," said DARPA Acting Director, Kaigham J. Gabriel. "That's a major validation that we're advancing our understanding of aerodynamic control for hypersonic flight."
Image credit: DARPA
Mar. 20 failed test was the third such tests for the Falcon. The first HTV-2 flight was conducted on Apr. 22, 2010 and lasted less than expected. Quite weirdly, nine minutes into the mission (just like in the 2012 test) the onboard systems detected an unsafe flight attitude and the vehicle was forced to descend directly into the ocean.
On Aug. 11, 2011, the HTV-2 flew its second test flight, but it lost contact about nine minutes into its planned 30-minute Mach 20 ride and it purposedly impacted the Pacific Ocean along its planned flight path for safety reasons.
As the analysis of the test flights suggests, something wrong happens nine minutes into the flight causing it to end prematurely, as if the vehicle reaches temperatures and aerodynamic conditions that are still difficult to manage: something that reminds that virtual "sound barrier" jet planes had to break to reach Mach 1 in the '40s.
Anyway, "the result of these findings is a profound advancement in understanding the areas we need to focus on to advance aerothermal structures for future hypersonic vehicles. Only actual flight data could have revealed this to us" DARPA said.
Nevertheless no more test flights are expected for the HTV-2.
The hypersonic strike vehicle the Pentagon dreams of, capable to fly from New York City and Los Angeles in less than 12 minutes, is still far from becoming a reality.