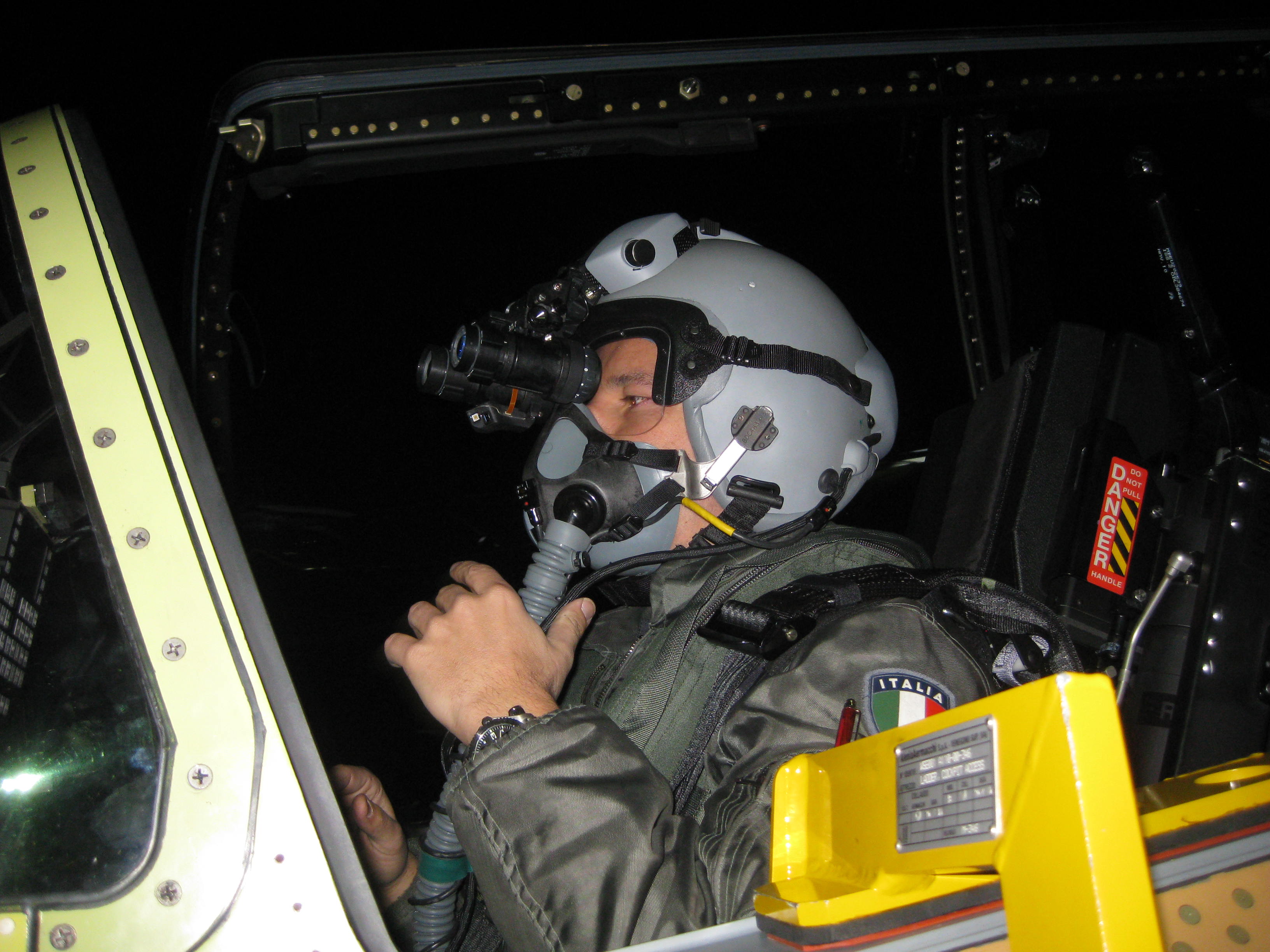 Alenia Aermacchi has recently announced the succesful completion of a  series of 7 test flights with a Helmet Mounted Display (HMD) system (similar to that used by front line combat planes), performed as part of the qualification and certification program for the Italian Air Force's T-346A (the Italian version of the M-346 trainer aircraft).
The system was installed onto 3rd series production aircraft and flown from Torino Caselle airport, Italy, during the Dec. 18 to 22, 2011, period.
Initial findings were very encouraging confirming the successful integration of the HMD into the cockpit and avionics of the M-346 even using the helmet in its "Night Configuration".
Alenia Aermacchi said that its test pilots found the HMD "fit for the training purpose" and that they also noted that some of the characteristics such as "comfort levels, ease of integration and great flexibility of use" had been very beneficial.
The test pilots said that the projected symbology was "sharp and clearly visible" significantly reducing fatigue; also during the night tests it was found that the situational awareness of the pilot was significantly increased, improving safety too. The test pilots also liked the customisation of the symbology and thought that this made the HMD very promising not only for training purposes but also operationally.
The HMD system is built around the HGU-55P helmet designed to be easily configured by the aircrew so that it can easily cover the needs for both day and night operations through a modular architecture approach. The night module is designed to be fitted to the standard NVG eyepiece kit used by many of the world's air forces and it works by overlaying the HMD symbology to that of the NVG imagery.
The HMD system is fitted in both front and rear cockpits and is fully integrated to the aircraft's avionics suite, giving the HMD system the ability to cue sensors and weapons giving support during navigation and attack modes during training both day & night. Alenia has said that "the successful integration of the HMD system in the M-346 gives the green light for the imminent production deliveries of the systems to the Italian Air Force, as part of the T-346A full trainer configuration suite".
The M-346 is the only Advanced trainer that has a HMD in both day and night configuration, something that has obviously been noticed by the Israeli Air Force that yesterday announced the selection of the M-346 as the training plane that will replace the aging Skyhawk fleet.
Noteworthy, whereas some HMDs have been extensively used by several air forces in the recent Libya Air War and in Afghanistan, some of the most advanced combat planes are not equipped with this kind of helmets. Among them the much troubled F-22 and the Rafale, winner of the Indian MMRCA (Medium Multi-Role Combat Aircraft) bid.
Richard Clements for TheAviationist.com
Image credit: Alenia Aeronautica
Related articles