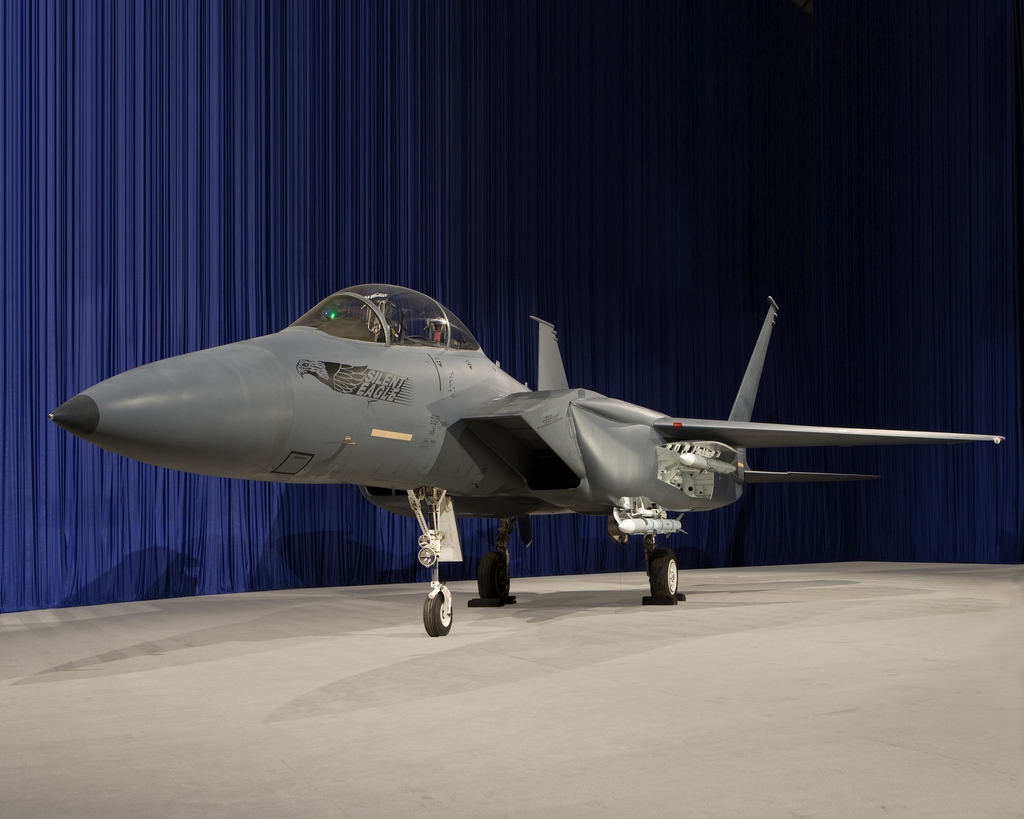 Silent Eagle, not to become reality?
The Korea Times has reported that there is a possibility that aviation giant Boeing may not full fill its promise to provide the stealthly version of it's F-15 to South Korea.
In an article published on Jan. 25, titled Boeing may give up offering stealthy jet journalist Lee Tae-hoon wrote that "a source familiar with Boeing's plan to modify its F-15s said little progress has been made in the making of the F-15SE, especially in the development of its conformal weapons bay (CWB), which allows the aircraft to carry weapons internally."
According to the informed source "only 10 percent of work has been completed for the research and development of the F-15SE's conformal weapons bay."
Boeing's proposal had included canted vertical stabilisers and a conformal weapons bay on each side of the aircraft to reduce the radar cross section of the aircraft, all compulsary requirements to Korea's KX-III procurement program to acquire advanced jets. Seoul had removed these requirements to allow other manufacturers the chance to compete, although had signed a memorandum of understanding with Boeing back in 2010. However Boeing announced late on 2010 that it had suspended development of the proposed features.
Tae-hoon also reported that other industry officials noted that it will be physically impossible for Boeing to complete the development of the CWB and canted tails by the end of October this year when Seoul plans to finalize the deal after three to four months of evaluations and negotiations. "Boeing will most likely change their offer. They won't offer the Silent Eagle" a senior official of Lockheed Martin, which is competing with Boeing and the European Aeronautic Defense and Space Company (EADS) for the FX-III bid, said asking for anonymity.
"They are going to offer the F-15K because that's the only plane they can deliver by 2016."
This opens the door for the F-35 and the Eurofighter Typhoon to get a toe hold in Korea.
Although EADS could try to offer a version with conformal fuel tanks and thrust vectoring, neither variant of the Typhoon is stealth. Therefore, since radar-evading capability remains a crucial factor in deciding the next South Korea fighter jets, Lockheed Martin F-35 seems to be favorite and this would explain Tom Burbage (Executive VP of Lockheed Martin and General Manager of F-35 Program Integration) optimism over the deal in the recent Press Briefing held in Rome.
What is yet to be determined is which of the three versions of the F-35 Lockheed has put forward to Seoul for consideration.
Written with The Aviationist's Editor David Cenciotti
Credit: Boeing