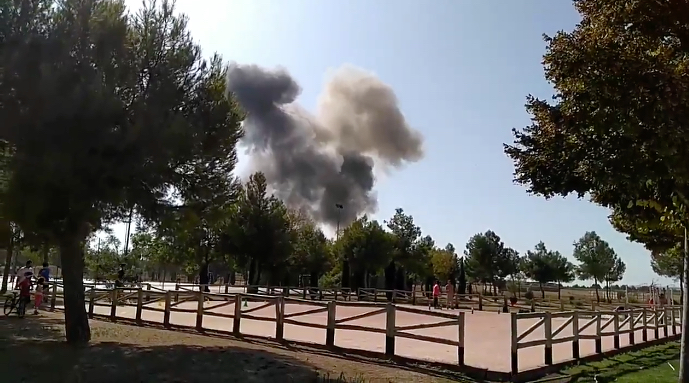 It's the third deadly crash of a Eurofighter in one month.
A Spanish Air Force Eurofighter Typhoon has crashed at Albacete, southeast on Madrid, Spain, while recovering to Los Lanos airbase after taking part in a National parade. The pilot did not manage to eject from the aircraft and was killed in the accident.
According to the Spanish MoD, the Eurofighter, one of four Typhoons that took part in the parade over Madrid, crashed, for unknown reasons, on approach to Albacete.
Albacete is the home base of the Eurofighter Typhoon C.16 jets from Ala 14 and the main operating base of NATO Tactical Leadership Programme.
Accidente aéreo en la Base Aérea de Los Llanos. #albacete pic.twitter.com/4D488KICpO

— MARIO_RP (@marioruiz_ab) October 12, 2017
This is the third deadly crash of a Typhoon in one month: a RSAF Typhoon combat aircraft involved in a mission against Houthi fighters over Yemen crashed into a mountain in Al Wade'a district on Sept. 13, 2017; then, on Sept. 24, an Italian Air Force Typhoon crashed into the sea while performing its solo display during the Terracina airshow.