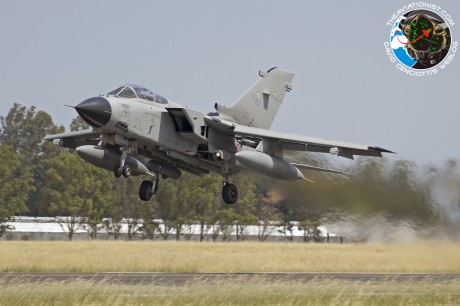 Accompained by a C-130J, that provided oceanic Search Air Rescue, and by a KC-767A aerial refueler, three Tornado IDS attack planes of the 6° Stormo of the Italian Air Force deployed to MCAS (Marine Corps Air Station) Cherry Point, North Carolina, to take part to Bold Quest 2013 (BQ-13) exercise.
The joint multinational drills foresee the involvement of air and ground units with the aim to validate new technologies related to the survivability and blue-on-blue fire avoidance within a combat scenario. Among such technologies, new IFF (Identification Friend or Foe) and NGIFF (New Generation IFF) that can be also used by aerial assets to query ground assets in the so-called ASID (Air to Surface IDentification).
Kicking off on Jun. 10, BQ-13 will be attended by units belonging to Australia, Belgium, Canada, Denmark, Finland, France, Germany, Italy, Norway, the Netherlands, Sweden, UK and US.
The Italian contingent includes also a C-27J of the Reparto Sperimentale Volo (Test Wing of the ItAF), one DADR (Deployable Air Defence Radar), as well as military and assets of the Italian Navy and Army.
Image credit: The Aviationist/A. Caglieri
Related articles