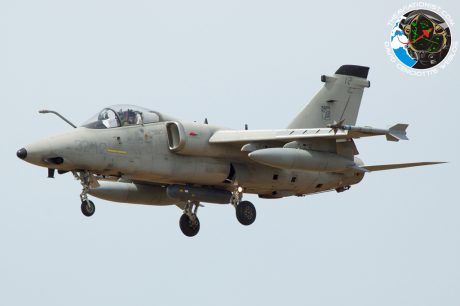 On May 30, the Italian Air Force celebrated the first 200,000 flying hours (FH) of the Alenia Aermacchi AMX jets.
The total amount of FH of the light-attack and reconnaissance single-engine aircraft jointly produced by Italy and Brazil, includes both operational and test flight hours (2,200) since 1984, the date of the type's maiden flight.
Six prototypes were manufactured (one was lost in an accident), 136 examples (110 single and 26 twin-seat, these last called the AMX-T) were ordered by the Italian Air Force and 56 were ordered by Brazil. All aircraft were delivered starting from 1988.
The Italian AMXs, that emerged as some of the most cost-effective assets during the Air War in Libya and, much earlier, during the Allied Force in Serbia and Kosovo, have flown more than 7,000 FH in Afghanistan since 2009, carrying LGBs (Laser Guided Bombs) or Reccelite reconnaissance pod.
For a detailed story of the AMX program, read the article: Ghiblis over the boot: the story of the AMX in the Aeronautica Militare Italiana
In 2012, Alenia Aermacchi completed the upgrade of the fleet to the ACOL standard (Upgrade of Operational and Logistic Capabilities – Adeguamento delle Capacità Operative e Logistiche) re-delivering 52 upgraded aircraft (42 single and 10 twin-seat) to the Italian Air Force.
The updated planes feature an inertial/GPS navigation system (EGI- Embedded GPS/Inertial) and the integration of a GPS-guided precision armament along with avionics improvements on 42 single-seat aircraft, which include New Generation Identification Friend or Foe, Night Vision Goggle (NVG) capability, a modern multi-function colour display and a more powerful computer symbol generator (CSG).
The AMX has recently taken part to Ex. Star Vega 2013 in Sardinia.
Even the Brazilian AMX aircraft are being updated under the A1-M upgrade that aims at extending the operative life of the fleet at least up to 2032.
Image credit: The Aviationist / Giovanni Maduli
Related articles