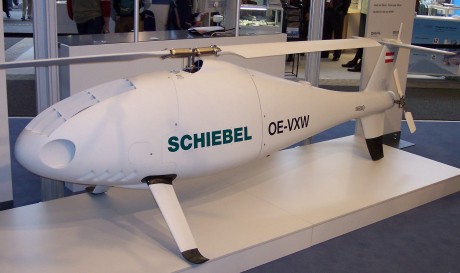 As already explained, on May 29 Pentagon acknowledged the loss of a scarcely known Camcopter drone in Somalia whose debris had been collected and shown all around the world by the Al-Shabaab group.
Interestingly, the mysterious drone was identified as a Schiebel Camcopter S-100 a tiny helicopter drone whose maximum take off weight is 200 kg.
It is at least odd, that Washington admitted the loss as the UAV (unmanned aerial vehicle) was not known (at least publicly) to be operated by any U.S. force or agency. Unless the drone carried some unit markings or national roundel, it is quite unlikely that anybody could tie the small drone crashed in Somalia with an American asset.
Unless they are forced to do that (as happened when the stealthy RQ-170 Sentinel drone was captured by Iran in December 2011), the DoD is rarely willing to disclose its involvement in overseas clandestine missions.
Image credit: Wiki
For instance, neither Pentagon nor U.S. Air Force have ever admitted the downing of a Predator by the Kurdish rebels.
As we reported back then, pictures of the wreckage of a U.S. Air Force MQ-1 Predator emerged on Sept. 19, 2012. The drone was allegedly shot down by the rebels on Sept. 18, in the Hakkari prefecture, where the drone was flying  an operation against the rebel bastion of Uludere.
The MQ-1 was part of a force of four U.S. Predator UAVs deployed to Incirlik airbase, in southern Turkey (one of the airports used to launch drone surveillance missions over Syria).
Months later, the Air Force released an accident report about an MQ-1B Predator crashed in a U.S. Central Command area of responsibility shortly after losing its satellite data link  on Sept. 18, 2012.
The report did not say that the drone was shot down (because either it was not downed or the fact it was lost to enemy fire could not be confirmed) nor mentioned that it was lost in Turkey (exact location was withheld and replaced by the generic U.S. CENTCOM area of responsibility).
Isn't this different approach on the two episodes a bit strange?
The fact that Predators were deployed in Turkey and were (and probably still are) flying surveillance missions over Kurdish rebels was not a secret. Still, they did not officially acknowledge that an MQ-1 crashed in Turkey.
A scarcely know Camcopter drone crashes in Somalia and they immediately tell the world that it was an American one.
Why did they disclose the Somalia crash and not the Turkish one?
Related articles