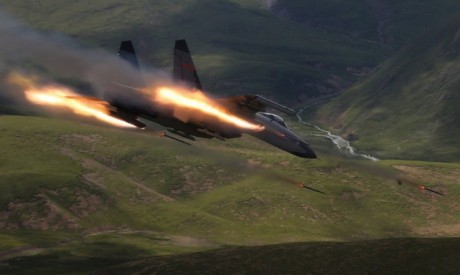 The Chinese have recently created a Su-27 airbase in Tibet, as CNN-IBN reports. It was made official just recently as several of these planes were spotted in Gonkar airbase last winter.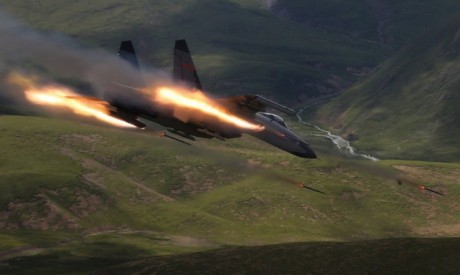 Image credit: People's Daily Online
Lack of infrastructure and high altitude (about 11,500 feet above the Sea Level) are claimed to be limiting factor for the operationability of the Flankers.
Altitude is said not only to affect the planes, but also the pilots who have to get used to lack of oxygen at that altitude, just like Himalayan climbers do.
It is claimed by CNN that enough infrastructure has been created for the fighters. It has been built for several years in secrecy and that's why India, that is located in a close vicinity, feels endangered.
The base is a part of Chinese strategy of widening China's power in the Indian region.  The base is considered to be a response to the Indian air bases of Chabua and Tezpur in Assam region. These bases are home for Indian Su-30MKI's capable of hitting targets in Tibet and China.
On the flipside, the Indian territories that are within the operational range of the Chinese fighters are located between  Ladakh, Sikkim and Arunachal Pradesh regions.
Image Credit: Sgt. D. Myles Cullen, U.S. Air Force, US DoD
When it comes to airports located quite high the Lukla airport in Nepal is one of the most famous ones. This airport is a base for climbers who are planning Mt. Everest expeditions. Nevertheless it is not located as high as the Chinese base (about 9,400 feet).
Here's a bit scary video showing a landing at Lukla airport:

And another one, showing how the airport works from another perspective:
The runway ends with an almost vertical surface of the mountain, therefore it is one-way runway, without touch and go or go around options.
Nevertheless, despite being dangerous, the second video shows that it is quite busy.
Coming back to the Su-27s, the Chinese fighters stationed in the region are a part of established Nash equillibrium, as both India and China are in possession of nuclear armament: the recontextualization of Cold War political scheme is still present within the global political landscape.
Jacek Siminski for The Aviationist
Related articles