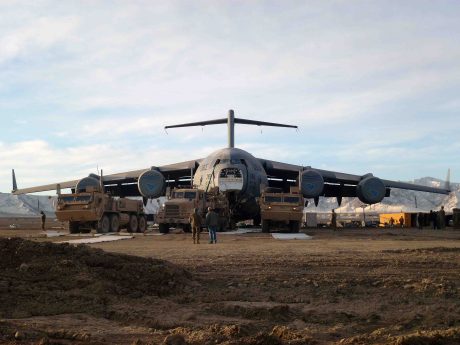 On Jan. 23, 2012 a C-17A Globemaster III was involved in a landing incident at Forward Operating Base Shank, in Afghanistan during a combat airlift mission in support to Operation Enguring Freedom.
The aircraft was unable to stop within the snowy runway, skidded off the prepared surface, struck an embankement and came to a rest about 700 feet from the end of the runway.
The Accident Investigation Board, found that the cause of the mishap was human factor: the pilot and co-pilot misjudged the landing distance required to safely stop the aircraft (that actually exceeded the runway length).
Image credit: U.S. Army
Fortunately, there were no passengers on board, hence no one suffered injuries and there was no damage to any other civilian or military property.
[Read also: Video: The C-17 Globemaster that made an "unscheduled stop" at Tampa's Peter O. Knight departs from the small regional airport]
However, as a consequence of the mishap, the massive cargo sustained 69.4 million USD worth damage to the landing gear, cargo floor, underbelly, antennas and main structural components.
Still, it was decided not to scrap the plane but to temporarily repairi it so that it could be flown back from Afghanistan to the U.S., a 7,000 mile journey.
It took nine nine months to fix the airplane and make it capable to perform a ferry flight to Boeing's Long Beach Depot Center in California for permanent repairs that are expected to be completed in 22 months.
Related articles